Ferrometer is suitable for laboratory or field use.
Press Release Summary: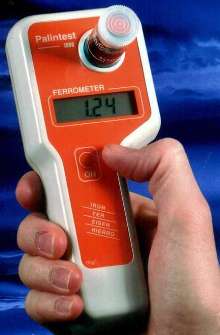 Featuring single-button operation, hand-held, splashproof Ferrometer 1000 uses industry standard 1,10 phenanthroline test and is capable of dissolving colloidal and particulate iron. It accurately tests iron in range of 0-5.00 mg/l with resolution of 0.01 mg/l and produces reading on 10 mm LCD. Powered by two 1.5 V batteries, unit features automatic switch-off and is supplied as complete test kit with iron MR test tablets, test tubes, and case.
---
Original Press Release:

Ferrometer for Iron Test


Erlanger, KY: Water analysis specialist Palintest has introduced an easy-to-use, hand-held meter for the accurate determination of total iron content in water. The splashproof Ferrometer 1000, one of the Palintest 1000 range of instruments, is equally suitable for bench use in treatment plants and laboratories, or for field use by sampling officers, inspectors and water quality engineers.

The monitoring of iron in natural and drinking water, swimming pools, agricultural water, process waters and effluents is essential. The Ferrometer 1000 uses the industry standard 1,10 phenanthroline test and is capable of dissolving colloidal and particulate iron to give a true measure of the total iron content. It accurately tests iron in the range 0-5.00mg/l with a resolution of 0.01 mg/l.

The instrument is very simple to use. After adding the test reagents to the sample and development of the color, the sample tube is placed in the meter and a single button pressed. The reading is then clearly displayed on a 10mm LCD screen. The Ferrometer 1000 is powered by two 1.5V batteries, which should last for 20,000 readings, and features automatic switch-off. It is supplied as a complete test kit including soft carry case, iron MR test tablets, test tubes and full operating instructions.

Iron occurs widely in nature and is found in many natural and treated waters. In domestic and industrial water supplies it can cause the staining of clothes, plumbing fittings and swimming pool surfaces. The formation of insoluble iron deposits from corrosion in plant and equipment, or from industrial processes, can be problematic in many industrial applications.

Company contact:

Terri McHugh
Tel: (800) 835 9629 Fax: (859) 341 2106
E-mail: info@palintestusa.com
Web site: www.palintestusa.com

Related