FEP Foam Concentrates optimize LAN and coaxial cables.
Press Release Summary: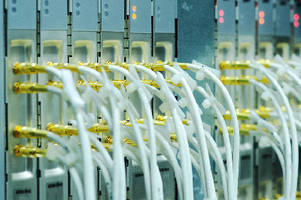 When coated with insulation produced from Fluon® Fluorinated Ethylene Propylene Foam Concentrates, cables demonstrate optimized high-speed data transmission with minimal distortion and signal loss. Higher flow concentrates are suited for thin wall applications in LAN cables, while lower flow foam concentrates are used for thicker coaxial cable wall constructions. Supplied in cylindrical pellet form, concentrates are added to natural FEP and do not contain lead, hexavalent chromium, or cadmium.
---
Original Press Release:

Fluon® FEP Foam Concentrates Enhance LAN and Coaxial Cables



EXTON, Pa., – AGC Chemicals Americas now offers Fluon® Fluorinated Ethylene Propylene (FEP) Foam Concentrates for LAN and coaxial cable insulation. When coated with foamed insulation produced from Fluon FEP concentrates, cables demonstrate minimal distortion and signal loss, and improved high-speed data transmission.



A gas injected foam extrusion process is used to produce foamed cable insulation. Since foamed fluoropolymers are lighter in weight than solid wall constructions, the process uses less FEP and saves material costs.



The AGC FluoroCompounds Group offers two grades of standard FEP foam concentrates. Higher flow concentrates are ideal for thin wall applications in LAN cables. Lower flow foam concentrates are used for thicker coaxial cable wall constructions. AGC also can customize foam concentrates to meet specific application parameters.



Fluon FEP Foam Concentrates, supplied in cylindrical pellet form, are added to natural FEP. They contain a well-dispersed nucleating agent that acts as a site for foaming during the gas injected foam extrusion process.



AGC Chemicals Americas' foam concentrates do not contain lead, hexavalent chromium or cadmium, and are used in applications where RoHS (Restrictions on the use of Certain Hazardous Substances) compliance is required.



In addition to foam concentrates, AGC FluoroCompounds Group offers seven other types of Fluon Melt Processable Compounds: Color concentrates; cross-linkable compounds; conductive/anti-static compounds; reinforced compounds; lubricated compounds; flexible AR compounds; and adhesive-grade compounds.



Visit www.fluorocompounds.com for information about Fluon products, compounding capabilities, testing and customer support services.



About AGC Chemicals Americas Inc.

AGC Chemicals Americas Inc. is a wholly owned subsidiary of Asahi Glass Company Ltd., a $13 billion multinational corporation and one of the world's largest manufacturers of glass, electronic displays and chemical products. The company was formed in 2004 through the merging of sister companies Asahi Glass Fluoropolymers USA and AGA Chemicals. Headquartered in Exton, Pa., AGC Chemicals Americas maintains manufacturing operations in nearby Thorndale, Pa., and warehouses located throughout North America. www.agcchem.com

More from Adhesives & Sealants