Fencing Sound Barrier comes in natural landscape green shade.
Press Release Summary: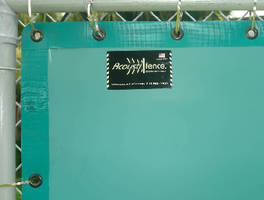 Designed to blend with environment, Landscape Green Acoustifence can be attached to most types of fencing. Product is made of heavy mineral-filled viscoelastic polymer material that is 1/8 in. thick and comes in 6 x 30 ft sections. When physically moved by sound waves, product transforms sound wave energy into inaudible internal friction energy. Barium-free Acoustifence is 100% recyclable, UV-resistant, impervious to water/mold, and does not contain lead, fiberglass, or asbestos.
---
Original Press Release:

Acoustiblok's Popular Acoustifence® Goes "Green"



Acoustiblok's popular Acoustifence is now available in a green shade that blends in with the environment. One of Acoustiblok's most popular products, Acoustifence is designed as an advanced sound barrier that can easily be attached to most types of fencing.



New green shade of Acoustifence now available.



"We expect the new natural landscape green shade of Acoustifence to quickly become a popular item," said Lahnie Johnson, president and founder of Acoustiblok.



TAMPA, FL – Acoustiblok Corporation announces a new product: Landscape Green Acoustifence (Pat. Pend). One of Acoustiblok's most popular products, Acoustifence is designed as an advanced sound barrier that can easily be attached to most types of fencing. The new green shade easily blends into the environment making it ideal for landscaping projects, residential home use and outdoor applications where blending into the natural foliage is a concern.



This new product still has the same sound deadening properties as the original Black Industrial and is composed of a unique proprietary formula of heavy mineral filled viscoelastic polymer material that is thin 1/8 inch thick, and made and sourced in the USA. It comes in 6 X 30 foot sections and is one of the most effective first steps in reducing noise for many applications including industrial, commercial, and residential. Acoustifence has been tested in independent certified acoustical labs and the measurements (STC 28, representing an 85% reduction to the human ear) are very accurate, however, results will vary depending on fence height, reflections off surrounding environment, distances, elevations, and noise frequencies.



Unlike a concrete block wall, Acoustifence actually flexes with certain frequencies, especially very low frequencies i.e. railroad/truck road noise and AC/heat pumps. In the process of sound waves physically moving it, the product transforms sound wave energy into inaudible internal friction energy. As the Acoustifence is only 1/8 of an inch thick, it is easy to position it closer to the noise source. The closer a barrier is to the noise source the more restricting it becomes to the initial sound waves. It is also economical making it a cost effective choice as the first line of defense against noise pollution. Another beneficial quality of the product is that it is quick and easy to install. Two people can easily complete the installation in a matter of hours when attaching it to an existing chain link fence.



Considered green and environmentally friendly, the barium-free Acoustifence is 100% recyclable, does not contain lead, fiberglass or asbestos, and is UV-resistant, impervious to water and mold. Dirt, grime, and graffiti, can also easily be removed compared to other surfaces. Used extensively by the US Army Corps of Engineers, Acoustifence has proven success in many demanding applications and is an effective defense against outdoor noise pollution.



"People are now more aware of noise problems and the stress it causes. There's also greater population density in the cities, increasing noise pollution and noise control regulations, and more demand for 'green' or environmentally friendly soundproofing products. Acoustifence meets all the criteria and the new green shade makes it very visually appealing for certain applications. As a solutions company, we are here to meet our customer's needs and will continue to innovate, manufacture and distribute cutting-edge products that address noise issues across the globe," said Lahnie Johnson, president and founder of Acoustiblok Corporation.



Acoustifence has been used successfully in industrial settings, on construction and fracking sites, for mass transit rail lines, road noise, restaurants, clubs, dog kennels and parks, residential homes, Pickleball courts and more.



Acoustifence features: UV Tolerant, paintable (acrylic latex vinyl based), easy to install or remove from existing fence, impervious to water, totally non-mold (rated 10 of 10), made from over 90% recycled or organic material, 100% recyclable, vermin proof, easily washed, STC 28 independent lab certified, and made in USA from all US materials. Acoustifence is available by the roll, and can be ordered reinforced with a selected number of grommets depending on the application.



For those interested in a more custom look, Acoustiblok offers Acoustifence-Landscape® attachments. These high quality landscape attachments fit directly over the Acoustifence to provide a realistic landscape appearance. A variety of landscape attachments are available to choose from, including floral gardens, green meadows, English garden walls, and other scenic illustrations to blend into any natural backdrop or enhance an unfinished yard or property.



"We expect the new natural landscape green shade of Acoustifence to quickly become a popular item. This very simple, economical noise control product is unequaled in its ability to reduce unpleasant exterior noise," Johnson said. "We are pleased to offer a "green" solution to a better quality of life issue for anyone living near an annoying noise source."



For more information on Acoustifence, visit the Acoustiblok website, call 813-980-1400, or E-mail sales@acoustiblok.com.



About Acoustiblok – "Quieting the World"

The Acoustiblok Corporation, a NASA spinoff listed company, has received top awards in the British House of Commons and has been featured throughout the world on National Geographic TV for its unique contributions towards reducing noise pollution. Acoustiblok also manufactures and markets such innovative products throughout the world. Appropriately, the company's catchphrase is, "quieting the world."



Primary products include Acoustiblok® viscoelastic polymer based soundproofing material, Acoustifence® outdoor acoustical fence, All Weather Sound Panels®, QuietFiber® insulating material, Quiet-Cloud® industrial sound absorption panels, and Acoustiblok Wall-Cover. Acoustiblok products are used in industrial, residential, commercial, and marine sectors worldwide. The company's products are made and sourced in the United States.



Acoustiblok Inc. ships products to more than 60 countries through a network of stocking distributors in the United States, on five continents across the globe and throughout the Mid-East. http://www.acoustiblok.com

More from Computer Hardware & Peripherals