FenceScreen, Inc. Expands Into Sports Facilities Market, Launches New Netting Line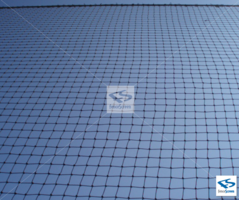 FenceScreen, Inc., announces professional-grade branded and customizable products for special events and commercial and academic sports facilities.
RANCHO SANTA MARGARITA, CALIF. (PRWEB) FEBRUARY 04, 2020 - Industry innovator FenceScreen, Inc., is proud to announce a new division of solutions for commercial and academic athletic facilities, and indoor and outdoor sports fields, ski slopes, golf courses, stadiums, and more.
FenceScreen's new professional safety screens and barriers, netting, and partitions are the perfect customizable solution to secure and brand special events and athletic sites, designed to enhance on-site branding in a clear and cohesive presentation, with products designed to last 10 years or longer. Additionally, products like FenceScreen's 351 Series Fence Wrap +Plus or the 1750 Series Knotted Nylon Sports Netting will add privacy and security for golf courses, driving ranges, and football fields and stadiums around the country.
Paul Barton of FenceScreen hears from customers regularly about the need for FenceScreen products in sports facilities, "Many of our B2B customer customers expressed a need for quality, commercial-grade netting solutions from a manufacturer that could meet their demanding deadlines. We felt that netting would complement our product line and growth goals so, we invested the time and capital needed and now offer a complete line of customizable commercial-grade netting products."
With FenceScreen's windscreens and banners, sporting venues are jumping to take advantage of maximizing on branding and sponsorship opportunities with solutions that showcase logos and partnerships in a unique and complementary manner with privacy and security products like fence wraps, gate covers, debris netting, crowd control and safety boundaries. "We knew there was a need for branded screens, banners and netting products from our existing customer base; however, we have been astonished at the demand stemming from new customers," said Barton.
FenceScreen's dedication to quality in every product is unparalleled, and this driven approach begins with understanding every client's needs and ends with going above and beyond to achieve client satisfaction. FenceScreen, Inc., offers exclusive pricing to partners for the full branded product line, with bulk order options for large-scale projects, ongoing or multi-location needs, as well as accessories to completely outfit site necessities.
For more information, contact FenceScreen at 1 (888) 313-6313 or visit the FenceScreen website.
About FenceScreen Inc.: FenceScreen, Inc. is the nation's leading provider of fence screens, nets and fence wraps designed to improve the appearance and functionality of standard fences. FenceScreen produces and markets expert-designed products, and customers benefit from unparalleled service with FenceScreen's dedication to providing the highest level of quality to customers with projects in residential, commercial, construction, special events and sports sites.
More from Test & Measurement