FELED Series LED Luminaires feature hinged polycarbonate lens.
Press Release Summary: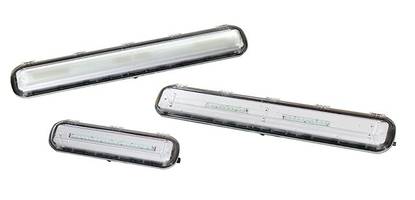 Available in 2.58 ft and 4.56 ft versions, FELED Series LED Luminaires are suitable for use in petrochemical and chemical processing plants. Operated in -30°C to 55°C temperature range, units deliver 2,000 to 8,000 lumens of light output and offer 60,000 hours of operation life. Enabling safe working conditions in walkways, bridges, tunnels, operation floors, and roadways, luminaires come in corrosion-resistant, fiberglass reinforced polyester body.
---
Original Press Release:
Appleton Makes it Easy to Replace Fluorescent Industrial Lighting with Energy-Efficient LED Lighting
New FELED Luminaire Provides Higher Efficacy and Uses the Same Housing and Mounting Accessories as the Appleton FE Fluorescent Series, Saving Time, Labor & Money
High efficiency, reliability, and longer life span have triggered the rapid growth in LED lighting demand over conventional fluorescent technologies. However, the perceived high cost of replacing fluorescent luminaires has inhibited some industrial facilities from switching over their fluorescent luminaires to next generation LED, despite the potential for more than 50% reduction in energy expense.
To help provide a simpler, more cost-effective path from traditional fluorescent lighting to energy-saving LED, Appleton, a trusted Emerson brand, is pleased to announce the new FELED Series of non-metallic, explosion-proof linear LED luminaires engineered for harsh and hazardous industrial locations.
FELED Luminaires make it easy to replace existing fluorescent fixtures because they are designed using the same rugged and durable housing and mounting accessories as the company's original FE fluorescent luminaries, maintaining the identical look and feel as their fluorescent counterpart. Certified for Zone 1, 2, 21 and 22 hazardous locations, the FELED luminaires are safe for use in petrochemical and chemical processing plants and other industries where flammable gases, vapors, and dusts are present.
Offered in the industry's widest light output range of 2,000 to 8,000 lumens, the FELED Series lumenaires have better T-code ratings and efficacy than most comparable competitive LED models. Plus, by delivering uniform bright light and superior color rendering, these luminaires enable companies to create safer working conditions in areas such as walkways, bridges, tunnels, operation floors, and roadways where sub-optimal lighting conditions can lead to serious accidents or mistakes.
Featuring a corrosion-resistant, fiberglass reinforced polyester body and hinged polycarbonate lens with elastomer gasket, the FELED luminaires securely protect internal components against dirt, water and moisture. Importantly, they are equipped with advanced LED thermal management and can meet a wide range of ambient temperature requirements -- from -30°C to 55°C (-22°F to 131°F) -- to ensure reliable performance in extreme offshore and onshore environments. Additionally, even at temperatures as low as -30°C (-22°F), the lumenaires will turn on instantly without any restrike issues often seen in fluorescent technology under similar conditions.
FELED luminaires are virtually maintenance-free thanks to an LED life rating of over 60,000 hours of operation. In the rare event maintenance is needed, the lens can be quickly removed to access the internal components, while the specially designed hinged cover speeds up the process of replacing drivers, LED Arrays or diffusers. Because of their cost-effective, energy efficient operation and low maintenance requirements, FELED luminaires provide a lower Total Cost of Ownership when compared to similar fluorescent fixtures.
Emerson FELED luminaries by Appleton are available in both standard and emergency versions in a .785m (2.58 ft) and 1.39 m (4.56 ft)m versions.
For complete information contact your Appleton representative or visit www.appletonelec.com.
About Appleton Group
Appleton Group, a business unit of Emerson, provides electrical products for hazardous, industrial and commercial environments to serve a wide range of industries. With its global capabilities and trusted expertise, Appleton Group has led the industry for decades in durability, safety, and quality with signature brands Appleton®, O-Z/Gedney®, EasyHeat®, Nelson® and SolaHD™.
About Emerson
Emerson (NYSE: EMR), based in St. Louis, Missouri (USA), is a global leader in bringing technology and engineering together to provide innovative solutions for customers in industrial, commercial, and consumer markets around the world. The company is comprised of five business segments: Process Management, Industrial Automation, Network Power, Climate Technologies, and Commercial & Residential Solutions. Sales in fiscal 2015 were $22.3 billion. For more information, visit Emerson.com.
For Immediate Release Contact:
Mary Krauss
Emerson
T (800) 621-1506
More from Communication Systems & Equipment