FEI Announces Successful Completion of QEMSCAN WellSite Field Tests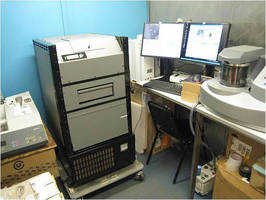 Information collected on a drilling rig off-shore Qatar provides Maersk Oil geologists with support for on-site drilling decisions and advanced analysis of LWD and wireline data

Hillsboro, Ore. - FEI Company's (NASDAQ: FEIC) Natural Resources Business Unit announced today the successful completion of QEMSCAN® WellSite(TM) field tests with Maersk Oil, in cooperation with Qatar Petroleum. The QEMSCAN WellSite solution provides automated, quantitative mineralogical, lithological and textural analysis of drill cuttings from oil and gas wells. In the field test, the system was deployed on an off-shore jack-up drilling rig near Qatar, where it was used to characterize carbonate and clastic geological sequences and reservoirs.

"The field tests were conducted between June and September 2011 in the challenging environment of an offshore drilling platform where the system endured large temperature variations, humidity, and vibrations on the jack-up rig, yet the QEMSCAN WellSite system was reliable," said Lewis Affleck, managing director, Maersk Oil Qatar.

Affleck adds, "The system's automated analysis and well-defined work flow delivered unbiased, quantitative characterization of drill cuttings in less than an hour from sample collection. Getting higher-quality information from drill cuttings helped us to make on-site mineralogy determination with greater confidence, supporting the porosity evaluation, and provided valuable data for post-drilling analysis. Our field tests of the QEMSCAN WellSite solution proved it to be quite valuable, and in particular, we see potential for its use in deep water drilling operation, especially in complex mineralogical settings."

The QEMSCAN WellSite analysis solution is a rugged, portable system for on- and off-shore drilling rigs that provides automated, quantitative analysis of cuttings produced when drilling oil and natural gas wells. The QEMSCAN WellSite system uses scanning electron microscopy (SEM) and x-ray energy dispersive spectrometry (EDS) in a streamlined sample preparation and analysis workflow to deliver quantitative, consistent, statistically-valid analyses of the mineralogy, texture and lithology of each cuttings sample.

"This field test with Maersk Oil represents the first successful use of the QEMSCAN WellSite system on an off-shore oil rig. Making this technology available in such a harsh, unpredictable environment is an important step forward to bringing advanced analysis closer to the well site, supporting faster, better-informed decision making for the oil and gas industry," said Dirk van der Wal, director marketing, FEI Natural Resources Business Unit. "We are gratified by the success of the field test and grateful for the collaboration of Maersk Oil and Qatar Petroleum in developing this solution. We look forward to making this technology available through mud logging service providers worldwide."

For more information, please visit www.fei-natural-resources.com or visit FEI at the Society of Petroleum Engineers Annual Technical Conference and Exhibition, October 30-November 2, 2011, Denver, Colorado (booth 2622).

About FEI

FEI (Nasdaq: FEIC) is a leading supplier of scientific instruments for nanoscale applications across many industries: materials science, life sciences, semiconductors, data storage, natural resources and more. With more than 60 years of technological innovation and leadership, FEI has set the performance standard in transmission electron microscopes (TEM), scanning electron microscopes (SEM) and DualBeams(TM), which combine a SEM with a focused ion beam (FIB). Headquartered in Hillsboro, Ore., USA, FEI has over 2,000 employees and sales and service operations in more than 50 countries around the world. More information can be found at: www.fei-natural-resources.com.


More from Portable Tools