Feeding Equipment installs fasteners during stamping process.
Press Release Summary: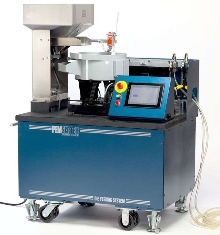 Pemserter® In-Die Fastener Feeding System installs self-clinching nuts, studs, and stand-offs in assemblies during stamping process. Portable system performs stamping and fastener installation simultaneously in the die. Multi-pin twist lock connectors provide virtual plug-and-play operation. Operator is guided by touchscreen for set-up and operation. Removable tooling allows handling complex work pieces and system can be configured for multiple or single insertions.
---
Original Press Release:

Pemserter® In-Die Feeding System Installs Fasteners During the Stamping Process


The PEMSERTER® In-Die Fastener Feeding System is uniquely engineered to install self-clinching nuts, studs, and standoffs in assemblies during the stamping process.

Working in tandem with a stamping press (and properly tooled die) to feed and install fasteners, this portable system eliminates secondary operations typically required for fastener insertions. Users can realize increased productivity, quality, and savings and gain a competitive edge as the system provides a capability to perform two operations (stamping and fastener-installation) simultaneously in the die.

The PEMSERTER In-Die Fastener Feeding System is virtually "plug and play" by utilizing multi-pin twist lock connectors to interface with the die and stamping press. The system can be configured for multiple or single insertions, generally matching the rate of the stamping press.

Operators are guided by a touch-screen (for set-up and operation) and an online library of fault/help screens. Removable tooling can handle complex workpieces and offers considerable adaptability capable of reaching into areas generally considered inaccessible. Customized tooling can be engineered to meet particular application needs.

The In-Die Fastener Feeding System consists of die tooling, fastener-feeding system, and die-sensing system. Customers are fully supported from die design through installation and in-house training.

Contact Michael J. Rossi, PennEngineering® Fastening Technologies, 5190 Old Easton Road, Danboro, PA 18916-1000. Phones: 800-237-4736 (toll-free in the U.S.) or 215-766-8853; Fax: 215-766-0143. Web site: www.pennfast.com

More from Fasteners & Hardware