Feeders handle wire, tube, and cable.
Press Release Summary: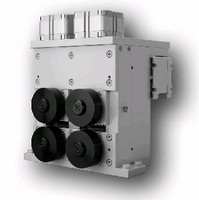 Utilizing pneumatic cylinder for max clamping and pulling forces, 2-roll Model NA S and 4-roll Model NAD S are suited for operations that work with wire, tube, and cable in coil making, cutting, forming, and straightening applications. Size of housing does not limit applied force since pneumatic cylinder is positioned on top of housing. Both feeders can handle material with diameters from 0.5-15 mm.
---
Original Press Release:

Witels Albert USA Introduces New Feeders for the Wire, Tube, and Cable Industries



Oxford, Maryland, September 26, 2006 - For applications that require maximum levels of pulling force, Witels Albert USA now offers two new feeders (also know as drive units), the NA S and the NAD S. The 2-roll NA S and the 4-roll NAD S are suitable for operations that work with wire, tube and cable in coil making, cutting, forming and straightening applications.

The NA S and NAD S Feeders each utilize a pneumatic cylinder for maximum clamping and pulling forces. Unlike other feeders that that are limited in applied force by the size of the unit's housing, the NA S and NAD S Feeders are unaffected by the size of the unit as the pneumatic cylinder is positioned on top of the housing. Consequently, the increased cylinder size yields greater clamping and pulling forces. Designed to move wire, tube, and cable in coil making, cutting, forming and straightening applications, both units can easily handle material diameters from 0.5mm - 15mm. "However", states company general manager Bob Flower, "depending on the particular application and the material being handled, larger diameters are also possible".

Witels Albert USA is also pleased to introduce the addition of a new on-line catalog to their website: www.witels-albert-usa.com. "The on-line catalog contains both general and specific technical information about our products that are used in the wire, cable, tube, flat strip, wire rope, and profile shape industries", states Mr. Flower. "More and more industrial products users want to have product information available immediately. We built our catalog to address that need." In the same vein the parent company, Witels Albert GmbH, Berlin, Germany recently launched their new website: www.witels-albert.com.

Contact: Bob Flower, General Manager, Witels Albert USA, 1-410-228-8383 or info@witels-albert-usa.com