Feeder streamlines SMT pin placement on multiple platforms.
Press Release Summary: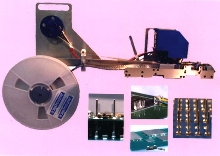 AutoFeeder(TM) supports placement of SMT pins and other interconnects on existing pick-and-place equipment. Primary transport mechanisms and component handling functions are matched directly to existing feeder mounting methodology used by major equipment manufacturers to create seamless interface for each SMT placement platform. AutoFeeder handles continuously reeled components including continuously stamped interconnects and tape and reel packaging.
---
Original Press Release:
Autosplice's AutoFeeder(TM) Family Streamlines Flexible Placement of SMT Pins on Multiple Platforms

San Diego, CA. - - Autosplice's new AutoFeeder(TM) technology provides electronics manufacturers with a flexible family of feeder alternatives that seamlessly support the efficient placement of a variety of SMT pins and other interconnects on existing pick-and-place equipment.

All AutoFeeder products leverage a unique modular design, which brings together a common transport mechanism in combination with specialized functionality for handling and presenting specific types of SMT pins and specialized interconnect components.
This blend of robustness and adaptability makes AutoFeeder technology an ideal choice for smoothly integrating the automation of SMT pins into existing flex-cell, fine-pitch and/or odd-form placement environments.

AutoFeeder's inherent modularity and low-profile design allows the same basic configuration to be adapted for use with a full range of SMT pick-and-place equipment from leading manufacturers, including Fuji, Philips, Sanyo, Siemans, Universal, Juki, and others. The primary transport mechanisms and component handling functions, designed and built by Autosplice, are matched directly to the existing feeder mounting
methodology used by each major equipment manufacturer to create a seamless interface for each SMT placement platform.

AutoFeeder technology also provides "true plug-and-play" compatibility with everysupported SMT placement platform, including the use of each equipment manufacturer's existing power interfaces, air connections and waste-removal systems. This ensures seamless integration and sustained performance on the production floor while eliminating any hassles with secondary power supplies, air hook-ups or manual waste disposal, which have typically impaired the effectiveness of other third-party feeder technologies.

AutoFeeder versions are currently available to handle a full spectrum of continuously reeled components that fall into two major categories. The first category includes Autosplice's continuously-stamped interconnects, such as MiniFoot(TM) SMT pins as well as other continuously manufactured components, such as ShieldClips, contact pads, etc. AutoFeeder technology is also designed to smoothly handle a second category of components presented in high-density tape and reel packaging, such as Autosplice's TreadHead(TM) SMT power pins. AutoFeeder inherently allows for maximum space efficiency and high reel densities by accommodating TreadHead pins that are packaged in a tight-pitch, horizontal format on the reel. The Autofeeder system automatically presents each pin in a vertical orientation, where it is held securely in a "V" block for consistent presentation to the pick-up head.

In conjunction with the core AutoFeeder technology, Autosplice has also gone the extra step of providing specialized optional nozzle inserts to ensure secure picking of SMT pins while eliminating mis-picks and boosting sustained production rates. The insert fits into the standard vacuum nozzle and prevents the nozzle itself from ever coming in contact with wet solder paste, thus decreasing requirements for frequent maintenance and
cleaning. To ensure maximum flexibility and optimal machine utilization rates, the nozzle inserts also provide full backward compatibility with the entire range of standard
SMT components.

With AutoFeeder technology able to sustain refresh rates of less than 250 milliseconds, the pick-and-place head is always assured of continuous availability and consistent picking of SMT pins whenever they are required. In effect, the pick-up head never has to wait on the feeder and is therefore able to provide sustained throughput at the pick-and-place machine's maximum effective speed.

The bottom line for electronics manufacturers is that AutoFeeder provides a unique capability to seamlessly and cost-effectively integrate leading edge SMT pins and other interconnect designs into existing high-speed automation production processes, with
minimal hassles and with maximum results.

Autosplice is a manufacturer of terminals, component assemblies and applicator systems, providing automated solutions for creating electrical interconnections. Autosplice systems enable substantial cost savings and provide superior reliability over conventional, connector products and assembly methods. For more information on Autosplice's products or to discuss unique applications, contact Autosplice at (800) 535-5538 or visit our Web Site at www.autosplice.com
More from Fasteners & Hardware