Feedblock Tuning Inserts can be adjusted during co-extrusion.
Press Release Summary: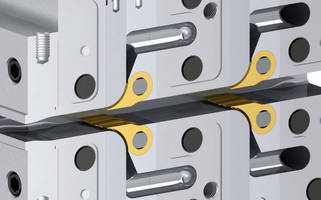 Tuning inserts for Ultraflow™ I feedblock let manufacturers of film and sheet reduce downtime and material waste while permanent flow inserts are prepared. Products also promote precision in ultimate thickness profiles of each layer across die width. Using this product, processors can maintain production while adjusting until target profile is achieved and matching permanent insert can be built. This eliminates need to re-cut permanent insert before arriving at target layer profile.
---
Original Press Release:

Feedblock Tuning Inserts Bring Speed and Precision to Profiling of Layers in Flat-Die Film and Sheet Coextrusion



Tuning Inserts for Ultraflow™ I Feedblock from Nordson Extrusion Dies Industries Keep Coextrusion Line Up and Running while Permanent Fixed Inserts Are Machined



CHIPPEWA FALLS, WI, U.S.A.: Tuning inserts for the Ultraflow™ I feedblock that can be adjusted during coextrusion enable manufacturers of film and sheet to reduce downtime and material waste while permanent flow inserts are prepared, and to achieve greater precision in the ultimate thickness profiles of each layer across the width of the die, it was announced today by Nordson Extrusion Dies Industries.



A feedblock shapes molten polymers from two or more extruders into layers in a sandwich structure that is subsequently distributed to full end-product width inside a flat die.  In feedblocks such as the Ultraflow™ I from Nordson Extrusion Dies Industries, a specially machined flow insert yields a target cross-direction thickness profile for each layer, and any job change involving significantly different layer ratios or polymer flow properties makes it necessary to design and machine different inserts. The innovative tuning inserts for Ultraflow I feedblocks enable processors to maintain production while being adjusted until the target profile is achieved and a matching permanent insert can be built.



"The new tuning inserts help processors to maximize run time and minimize waste during the week or more that is required to design and machine permanent inserts," said Sam G. Iuliano, chief technologist. "Because the tuning inserts can be fine-tuned 'on the fly,' it is possible to do several iterations, making small additional changes in very little time and refining the geometry with great precision before machining a permanent insert. This process eliminates the need to do several 're-cuts' of the permanent insert before arriving at the target layer profile."



Typically about 4 inches (10 cm) wide and machined from hardened stainless steel, a flow insert is specially designed to generate a corrective layer profile for a polymer with specific flow properties. The flow-adjusting component of the new tuning insert from Nordson Extrusion Dies Industries consists of ten segments, each of which can be adjusted to reduce or increase layer thickness by turning a corresponding screw. Once the target profile has been established, a measurement tool supplied by Nordson Extrusion Dies Industries replicates the screw positions so that it can be used for producing a precisely matching permanent insert.



Ultraflow I fixed-geometry feedblocks can be designed to accommodate a flow sequencing spool that makes it possible to change the sequence of material layers without having to block off channels or disassembling the feedblock. Nordson Extrusion Dies Industries also offers the Ultraflow V adjustable-geometry feedblock, which, instead of interchangeable inserts, has built-in adjustable "combining planes" located where the melt streams join the central flow channel.



Headquartered in Chippewa Falls, Wisconsin, U.S.A., Nordson EXTRUSION DIES INDUSTRIES is part of the Nordson Corporation Polymer Processing Systems product offering and is a leading international supplier of flat dies, feedblocks, and related equipment for film, sheet, extrusion coating, fluid coating, and pelletizing. The company operates plants in the U.S.A, Belgium, China, and Japan, including capabilities in all four countries for remanufacturing its own dies and those built by other suppliers. Visit www.nordsonedi.com. E-mail: sales@nordsonedi.com.



Nordson Corporation (Nasdaq: NDSN) engineers, manufactures and markets differentiated products and systems used for the precision dispensing and processing of adhesives, coatings, polymers and plastics, sealants, biomaterials and other materials and for fluid management, test and inspection, UV curing and plasma surface treatment, all supported by application expertise and direct global sales and service. Nordson serves a wide variety of consumer non-durable, durable and technology end markets including packaging, nonwovens, electronics, medical, appliances, energy, transportation, construction, and general product assembly and finishing. Founded in 1954 and headquartered in Westlake, Ohio, the company has operations and support offices in more than 30 countries. Visit Nordson on the web at www.nordson.com, www.twitter.com/Nordson_Corp or www.facebook.com/nordson.



Robert J. Martino

Martino Communications Inc.

8 Main Street / P.O. Box 379

Hastings-on-Hudson, NY 10706 U.S.A.

Tel: 1-914-478-0754

Email: bob@martinocommunications.com

www.martinocommunications.com

www.twitter.com/MartinoComms

More from Communication Systems & Equipment