Motion Sensors / Detectors / Transducers
Feedback Transducers suit CNC machines.
Press Release Summary: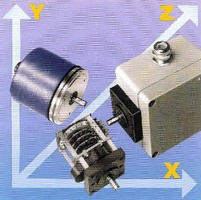 Based on Modular Cam Switch System, MR200 Series provides accurate position, speed, and overrun control of linear or rotary motion in servo motor drive systems. Units can be integrated with precision low or zero backlash gearing, in application-specific, compatible packaging. Machine applications include CNC machining centers, industrial robotics, food processing, medical products, packaging, paper converting, and military/aerospace.
---
Original Press Release:
MR200 Replacement Feedback Transducers For CNC Machines
Newbury Park, California, September 18, 2006 - Micronor's MR200 series Feedback Transducers are based on the company's proprietary Modular Cam Switch System. This proven technology provides an efficient and cost-effective way to engineer plug-and-play feedback transducers for new equipment designs as well as servicing machinery no longer supported by the original equipment manufacturers. Feedback units can incorporate any combination of encoders, resolvers, potentiometers, tachometers, rotary limit switches as well as specialized interface electronics (4-20mA or ±10V analog outputs, serial interface, CAN, etc.). These feedback components are readily integrated with precision low or zero backlash gearing - in application-specific, compatible packaging. Feedback transducers are mission critical components of precision CNC machinery - designed to provide highly accurate and reliable position, speed and overrun control of linear or rotary motion in high performance servo motor drive systems. Machine applications exist across many industries; including CNC machine centers, industrial robotics, food processing, medical products, packaging, heavy manufacturing, paper converting and military/aerospace. MR200 series Feedback Transducers can be designed as plug-and-play replacements for obsolete units formerly manufactured by Baumer, Crouzet, Eucron and Micron. These transducers are can be found in machinery manufactured by a large number of OEM CNC equipment manufacturers; including Bridgeport, Cincinnati Lamb, Giddings & Lewis and Kingsbury - to name just a few. Micronor offers a range of standard as well as custom engineered feedback solutions. User quantities can range from one to thousands - there are no minimum quantity requirements. Scan the standard product examples available on www.micronor.com as well as contact Micronor directly with your feedback requirements. About Micronor Micronor is a leading supplier of reliable and rugged components for industrial automation and process control industries. Motion control products include encoders, resolvers, rotary limit switches, geared feedback transducers, cam timers, motorized potentiometers, manual pulse generators and ergonomic handheld pendant stations. Micronor was founded in 1968 and has regional headquarters in both the United States and Europe. CONTACT INFORMATION: Dennis Horwitz Vice President, Sales & Marketing Micronor Inc. 3483 Old Conejo Rd, Suite 203 Newbury Park, CA 91320 USA TEL: (805) 499-0114 FAX: (805) 499-6585 EMAIL:dennis.horwitz@micronor.com www.micronor.com
More from Material Processing