Federal Process Corp. Releases New Free All® Deep Penetrating Oil 'Bullet' Can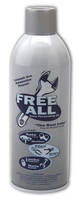 Revolutionary Rust Penetrant Now Packaged in a More Ergonomic Can, Same Fast-Acting, Powerful Formula for Any Industrial Application

CLEVELAND, OH, Feb. 13, 2009 - Free All® Deep Penetrating Oil, utilizing an exclusive formula that frees rusty, frozen parts faster, is now available in an attractive, "Bullet" style can.

The new Free All Deep Penetrating Oil 12-ounce Bullet can features an improved, solid grip and includes a special straw-style applicator.

Free All utilizes a proven formula that quickly and easily dissolves rust and corrosion and prevents the need for torching, drilling, hammering and chiseling to free virtually any frozen fastener or part. The formula contains a special rust-eating agent that is ideal for industrial and plumbing applications. Unlike several competing products in the rust penetrant category, Free All is free of harmful silicones, making it safe for use around painted surfaces.

Free All® Deep Penetrating Oil is a leading product in the line of specialty chemicals available from Gasoila. To learn more about the other unique, powerful chemicals in the Gasoila line, please visit the www.Gasoila.com Web site.

For additional information regarding Free All Deep Penetrating Oil, please call toll-free (800) 660-6140, email djohnson@federalprocess.com or visit the www.Gasoila.com Web site. Detailed information (including MSDS sheets) on the entire line of industrial products is available online at www.Gasoila.com.

Gasoila Chemicals, a Federal Process Company, offers a diverse line of quality products for the petroleum, plumbing, LP Gas, HVAC, automotive and general industrial markets. From industrial thread sealants and cutting oils to gas gauging pastes and industrial cleaning chemicals, Gasoila has long been the professional's choice for tough, reliable chemical products that get the job done.

More from Packaging Products & Equipment