February Material Highlight: ITW Formex(TM)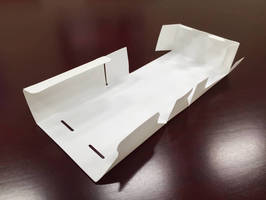 This month we highlight ITW's Formex™ flexible polypropylene materials. Formex™ is a flame retardant material that provides superior electrical insulation and barrier protection in various industrial and consumer electronic equipment.



This material is able to create a 'living hinge' for fantastic score and fold ability, making it easy to create 3-Dimensional parts that can fold repeatedly without tearing or cracking. The low cost and ease of manufacturing makes this quite common in disposable packaging applications.



ITW Formex™ materials comply with UL 94V-0, CSA, IEC, VDE, TUV, BSR and METI standards, plus meet all major North American, European and Asian flammability and environmental requirements, including RoHS and WEEE.



Product Highlights:




Flame Retardant 94 V-O



Non-Hygroscopic



Chemical Resistant



Superior Dielectric Strength



Excellent Score and Fold



Static Dissipative



ITW Formex™ is used in a wide variety of applications such as:




Electronics and Electrical insulation



Barriers between printed circuit boards and electronic housings



Barriers to prevent access to dangerous areas



Wire and cable harness organizer



EMI/RFI shielding



Packaging



Common Products where Formex™ is used include:





Computers



Power Supplies



Power Distribution Systems



Telecommunications Equipment



Medical Equipment



Automotive Products



Consumer Products



TVs and Appliances



Air flow baffles



Lighting



Formex™ is a highly convertible material, making it easy for us to custom fabricate. This material can be cut, sliced, chopped, scored, and laminated in any shape imaginable. SRP's Processing Capabilities for Formex™ include: Die-Cutting, Flash Cutting, Waterjet Cutting, Laser Cutting, and Laminating.







More from Electrical Equipment & Systems