FDA & USDA Compliant Bearings, Shafting, Profile Rail, and Complete Linear Systems!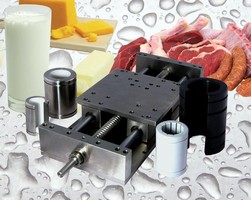 E. Longmeadow, MA - Process food, package food and medical instruments, develop medical devices, and manufacture pharmaceuticals using off-the-shelf FDA and USDA compliant bearings and shafting from LM76. Designers can select from a broad range of FDA & USDA compliant bearings, shafting, and profile rail and slide systems when developing equipment that is going to be subjected to the contamination of a processing plant, chemical washdowns, corrosive fruit juices, biological fluids, and submersion in water or sterilizing chemicals.

LM76 manufacturers a broad variety of FDA & USDA compliant bearings and shafting, in inch sizes of .25 inches to 1.5 inches, and a FDA & USDA compliant profile rail and slide system that can easily be integrated into new and existing applications. The bearing options include: Self-lubricating FDA & USDA compliant Teflon® composite bearings in a 304 stainless steel shell, and lower cost bearings with a ceramic coated shell and FDA & USDA compliant liner. Bearings are available in closed and open configurations, and are drop-in replacements for all inch sized linear ball bearings.

Shafting options for the above bearings include: Solid and hollow class L 304 stainless steel and ceramic coated aluminum shafts in lengths to 12 feet. FDA & USDA compliant, shafting features: Excellent corrosion and chemical resistance, custom machining to print, predrilling and assembly.

Founded in 1976, LM76 has been a leading designer/manufacturer of linear bearings, slides and linear motion systems. LM76 is renowned for its industry leading Minuteman Teflon® Composite linear bearings. LM76 is a leading supplier of precision linear shafting: RC60, 300 Series Stainless Steel, and ceramic coated aluminum shafting. LM76 also offers several FDA/USDA compliant linear bearings and slides for the food processing, pharmaceutical, medical, and packaging industries.

For additional information contact Mike Quinn at: LM76, 140 Industrial Dr.
E. Longmeadow, MA 01028; Telephone: 413-525-4166, Fax: 413-525-3735 or E-Mail: mquinn@lm76.com or visit the Web site at: www.lm76.com.

More from Packaging Products & Equipment