FC/SCSI to SATA Interface Converter has drop-in design.
Press Release Summary: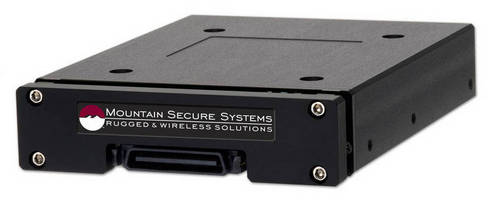 Designed to meet AS9100 configuration control standards, ruggedized conversion sled converts Fibre Channel or SCSI interfaces to SATA in standard 3.5 in. form factor. It does so by mimicking 3.5 in. Fibre Channel or SCSI (50-, 68-, and 80-pin) hard drive (HD) or SSD by integrating 2.5 in. SATA HD or SSD into 3.5 in. standard form factor package. Electrical barrier prevents anything from shorting against PCBA or HD/SSD, and PCBAs are conformal coated to withstand moisture, sand, and dust.
---
Original Press Release:
Drop-in conversion sled helps organizations avoid expensive redesign costs of converting legacy architectures to modern interfaces

Longmont, Colorado – Mountain Secure Systems (MSS), a leading supplier of rugged electronic solutions to the aerospace and defense industries, announced today that it has launched a cost-effective, ruggedized drop-in conversion sled that converts Fibre Channel or SCSI interfaces to SATA in a standard 3.5" form factor.

The conversion sled mimics a 3.5" Fibre Channel or SCSI (50, 68 and 80-pin) hard drive (HD) or solid state drive (SSD) by integrating a standard, commercially-available 2.5" SATA HD or SSD into a 3.5" standard form factor package. This convenient solution reduces the effort of locating replacement end-of-life (EOL) drives, which may or may not be available, and helps avoid the high cost of redesigning and re-qualifying system architecture to utilize modern interfaces. Customers can select virtually any drive to best meet their requirements, based on a number of considerations like price, capacity, HD vs. SSD, speed, environment, endurance, and single-level cell (SLC) vs. multi-level cell (MLC). Customers also have the option to customize firmware to meet their specific application.

"Mountain Secure Systems works directly with the leading players in interface conversion and integrates their technology into our own rugged package," said Ken Dickson, General Manager at Mountain Secure Systems. "Our solutions are designed to mitigate low frequency resonant vibration input to the HD or SSD, as well as provide an optimized path to conduct heat away from the drive. Our conversion sleds can also be matched to the weight and center of gravity (CG) of the HD or SSD being replaced, which is important for systems used in flight, where it is imperative that nothing changes that would affect the original design criteria."

MSS conversion sleds incorporate an electrical barrier that prevents anything from shorting against the printed circuit board assembly (PCBA) or HD/SSD. PCBAs are conformal coated to withstand moisture, sand, dust, etc. And, most importantly, all MSS conversion sleds are designed and manufactured to meet AS9100 configuration control standards and are fully-functional tested to the customer's environmental requirements prior to delivery.

To learn more about MSS, visit www.MountainSecureSystems.com. You can also follow MSS on Twitter, Facebook, Google+ and LinkedIn. MSS is a subsidiary of Phillips Service Industries, Inc. (PSI) and SDVOSB.

About Mountain Secure Systems (www.MountainSecureSystems.com)
Mountain Secure Systems (MSS), a subsidiary of Phillips Service Industries, Inc. (PSI) and SDVOSB, is a leading supplier of rugged electronics and legacy conversion solutions to the aerospace and defense industries, as well as in-flight entertainment solutions for commercial aircraft. In addition, MSS offers industry-leading outdoor wireless network solutions for video, voice and data applications. Our quality, American-made products are built to withstand the harshest elements of land, sea, air and space.

About Phillips Service Industries, Inc. (www.psi-online.com)
Phillips Service Industries, Inc. (PSI), established in 1967, is a privately-held service-disabled, veteran-owned small business (SDVOSB) that oversees a diverse collection of innovative subsidiaries, serving a wide range of industries, including aerospace, defense, automotive, energy, healthcare, security and semiconductor. Our award-winning products and services help reduce costs and maximize efficiency for many Fortune 500 companies around the globe, as well as the U.S. military. We push the bounds of technology on critical programs like Homeland Security, Defense research and space exploration, delivering innovative solutions for land, sea, air and space. We're PSI: Always innovating. Everywhere.™
More from Machinery & Machining Tools