FB-DIMM Memory Socket enables server memory expansion.
Press Release Summary: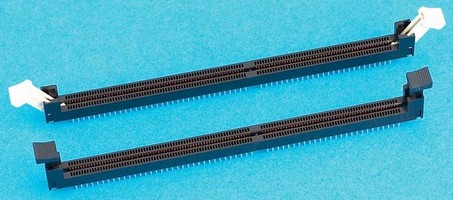 Vertical memory module connectors accept DDR2 FB-DIMM (Fully Buffered Dual In-Line Memory Module) assemblies and have card-edge contact design that protects against stubbing. Enabling data rates to 4.8 Gbps, interface utilizes serial differential signaling. Sockets provide mechanical voltage keying and end latches for module retention and ejection. Designed to JEDEC Socket Outline SO-003, 240-position connectors feature through-mount leads for solder termination.
---
Original Press Release:


FB-DIMM Memory Module Socket from FCI Enables Server Memory Expansion




ETTERS, PA - FCI, a leading supplier of connectors and interconnect systems, has developed vertical memory module sockets that accept industry-standard DDR2 FB-DIMM (Fully Buffered Dual In-Line Memory Module) assemblies to allow convenient memory expansion in new-generation enterprise servers. The FB-DIMM interface utilizes high-speed serial differential signaling to address the need to increase both memory capacity and bandwidth in future server, storage subsystem, workstation, and communications platforms. The lower circuit count required for each memory channel also reduces routing area and complexity enabling system manufacturers to realize board cost savings.

The 240-position connectors are designed to JEDEC Socket Outline SO-003 and accept module assemblies that comply with the DDR2 FB-DIMM Module Outline as described in JEDEC MO-256. The connectors provide mechanical voltage keying and end latches for module retention and ejection. Socket latches include complementary features to accommodate module end notches as defined in MO-256. The enhanced card-edge contact design protects against stubbing and provides a high-speed interface designed for data rates extending to 4.8 Gb/s. Multi-port Frequency Domain (S-Parameter) and SPICE files are available upon request.

"We have carried forward the low insertion force socket design developed for our standard DDR2 module sockets to our DDR2 FB-DIMM sockets to provide for easy installation of memory modules," says Stanley Fu, FCI Product Manager. "The force required to install a memory module is typically less than 22 pounds for our socket design."

FCI's DDR2 FB-DIMM memory module connectors are offered with through-mount leads for solder termination. Available solder tail options support use on 1.47mm (0.058") to 3.18mm (0.125") thick motherboards. "Lead-free" part options are available to aid compliance with RoHS or other lead-elimination initiatives. Metal fork locks provide retention to the host PCB prior to soldering.

Samples are available for delivery, with production lead times from stock to 6-8 weeks depending upon the specific connector configuration.

For more information about memory module connectors, contact FCI at 825 Old Trail Road, Etters, PA 17319-9351; call 800-237-2374, e-mail at electronics.us@fciconnect.com or visit FCI on the web at fciconnect.com/ddr.

More about
Created in 1989, FCI rapidly secured its place among the world's top three manufacturers of connectors and interconnect systems. With a turnover of 1.29 billion Euros in 2004, FCI currently operates in 30 countries where it covers the following markets: communications, data, consumer, industrial, automotive and electrical power interconnect. The company employs around 13,000 staff worldwide.

For more information: www.fciconnect.com


More from Controls & Controllers