Faux Wood Beams restore and enhance rustic aesthetics.
Press Release Summary: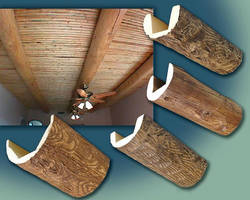 Hollowed, water-based finished and unfinished, high density polyurethane Faux Wood Beams recreate rustic aesthetic of aged, hand hewn oak beams. Suited for either indoor or outdoor use, dimensionally stable products come in 4 collections (Box Beam, Contemporary, Log Beam, and Rustic) and 11 assorted styles. All are impervious to moisture and insects and may be tooled and refinished using traditional techniques and tools yet still retain their grain and texture.
---
Original Press Release:

Outwater Introduces its Faux Wood Beams



Now one can easily and economically recreate the rustic look afforded by authentic, aged, hand hewn oak beams with Outwater's [Outwater Plastics Industries, Inc. + Architectural Products by Outwater, LLC] water based finished and unfinished high density polyurethane Faux Wood Beams.



Ideally suited for transforming ordinary houses, stores and restaurants into extraordinary, charming country style homes, shops and inns, Outwater's hollowed Faux Wood Beams are not only lightweight and sturdy, they are easy to install on virtually any type of surface by means of affixing them via countersunk nails or screws to nailing blocks or wood planks, which serve both as a point of attachment as well as an installation guide or template.



Stocked in four different collections (Box Beam, Contemporary, Log Beam and Rustic) in eleven assorted styles (Classic Raised Grain, New World, Vintage, Mesa, Milled, Modern, Rough Sawn, Colonial and Heritage Log, Hand Hewn, Old World, Tahoe and Vintage), Outwater's Faux Wood Beams are indistinguishable from the genuine wood beams after which they have been patterned.  And just like the originals, Outwater's Faux Wood Beams can be tooled and refinished if necessary still retaining their grain and texture using traditional techniques and tools.



However, unlike their wood counterparts, which are subject to rot and insect infestation, not to mention their overt heft and difficulty in handling, Outwater's Faux Wood Beams are dimensionally stable as well as impervious to moisture and insects, making them suitable for either indoor or outdoor use.



To heighten the overall authenticity of an installation, Outwater has introduced the following corresponding products:



Outwater's Rubber Beam Strapping and Polyurethane U-Brackets perfectly replicate the look of the heavy, forged wrought iron fastening hardware used to secure Outwater's Faux Wood Beams in place.



Outwater's Faux Wood Corbels will indiscriminately augment the beauty and refinement of Outwater's Faux Wood Beams and are offered as complementary decorative ornamentation.  Outwater's Faux Wood Corbels can either be utilized in conjunction with Outwater's Faux Wood Beams as a corresponding support, or as a standalone ornamental embellishment.



Outwater's Faux Wood Panels are intended for horizontal or vertical supplemental use with Outwater's Faux Wood Beams and Faux Wood Corbels.



Outwater also offers Beam Stain for touch ups.



For further product information, please click the enclosed link or copy and paste it into your web browser: 



http://www.outwatercatalogs.com/lg_display.cfm/catalog/Master_2012?useSearchForm=single&page=770



About Outwater [Outwater Plastics Industries, Inc. + Architectural Products by Outwater, LLC]: Outwater can be contacted Toll Free at 1-800-631-8375 (For sales and product information in the USA & Canada) / 1-201-498-8750 (For sales and product information outside of the USA & Canada) or viewed online at www.outwater.com



From the vendor of a single product in August 1972, Outwater, with sales and distribution facilities in New Jersey and Arizona, is recognized today as a well established international manufacturer and stocking distributor of more than 65,000 standard and innovative component products required by woodworkers, cabinet and furniture manufacturers, builders, remodelers, designers, architects, point-of-purchase and display fixturing manufacturers, OEM's, as well as a diversified range of other commercial and retail end users.



Major Product Categories include Plastic & Aluminum Extrusions; Lighting and Lighting Accessories; Furniture, Cabinet & Store Fixture Components; Knobs & Pulls; Casters; Fasteners; Laminates; The FOGA Exhibit & Display Fastening System; The Klem Connector; Literature Displays; Slatwall; Sign Holders; P.O.P Components; Display Motors & Turntables; Pedestals; Injection Molded Parts; Brass Tubing & Fittings; Surfacing Materials; Interior & Exterior Polymer & Wood Architectural Mouldings & Millwork; ORAC DECOR and DEM Architectural Mouldings & Millwork; Columns & Capitals; Balustrading; Wrought Iron Components; Decorative Stamped Steel & Polymer Ceiling Panels; Wainscoting; Wall Coverings; Fireplace Surrounds; Plastic "Glass" Block; Period & Contemporary Hardware; Kitchen & Bath Accessories; Kitchen & Bath Cabinetry and Vanities… and so much more!



Contact:

Joey Shimm, Director of Marketing

Outwater Plastics Industries, Inc. + Architectural Products by Outwater, LLC

(201) 498-8750