Fault Insertion Card features PCI form factor.
Press Release Summary: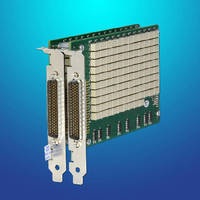 Available as either 1- or 2-slot short PCI card, Model 50-190 provides 75, 64, or 36 channels of fault insertion as well as 1 or 2 fault insertion busses, each of which can select from 3 fault sources. Card includes ability to introduce open circuit paths, shorts between paths, or shorts to fault connections such as battery or ground. Suited for use on Can and FlexRay bus systems, unit features 2 A hot switch capacity for powers up to 60 W and voltages to 165 Vdc/115 Vac.
---
Original Press Release:

Pickering Interfaces Introduces First PCI Fault Insertion Card



Clacton-on-Sea, UK – Pickering Interfaces, a leading provider of signal switching and conditioning solutions, is expanding its range of PCI based switching solutions with the introduction of its first PCI Fault Insertion Card.



This new PCI Fault Insertion Card (model 50-190) is available as either a one or two slot short PCI card with the following features:

• 75, 64 or 36 channels of fault insertion

• One or two fault insertion busses, each of which can select from three fault sources

• The ability to introduce open circuit paths, shorts between paths or shorts to fault connections such as battery or ground

• 2 Amp hot switch capacity for powers up to 60W and voltages to 165VDC/115VAC

• High bandwidth suited for use on Can and FlexRay bus systems



Pickering Interfaces continues to promote its test solutions in multiple platforms by offering fault insertion in different form factors (PXI and PCI) with the same options. This offering allows the user to choose the most appropriate platform for their test system. The 50-190 PCI Fault Insertion Card has the same functionality as their widely used 40-190 PXI Fault Insertion Module.



Keith Moore, Managing Director of Pickering, explained "Over the last year or so, we have been expanding our PCI product family in response to market demands. One would think that PCI is nearly obsolete, given that it is no longer available on desktop PCs. However, we have found that the industrial PC market, which is a larger market than PXI, still embraces PCI cards and expects to support them for many more years. As PCI products are electrically similar to standard PXI devices, it is a natural migration for Pickering to re-layout many of our popular PXI switch modules, thus supporting a greater portion of the test market."



Pickering Interfaces stands behind all of their manufactured products with a standard three-year warranty and guaranteed long-term product support. Pricing and availability information is supplied on their website at www.pickeringtest.com.



About Pickering Interfaces

Pickering Interfaces designs and manufactures modular signal switching and instrumentation for use in electronic test and simulation. We offer the largest range of switching cards in the industry for PXI, LXI, PCI and GPIB applications as well as a full range of supporting cables and connectors. Pickering's products are specified in test systems installed throughout the world and have a reputation for providing excellent reliability and value. Pickering Interfaces operates globally with direct operations in the US, UK, Germany, Sweden, France, Czech Republic and China, together with additional representation in countries throughout the Americas, Europe and Asia. We currently serve the automotive, aerospace & defense, power generation, energy and commercial electronics industries. For more information on signal switching and conditioning products or sales contacts please visit www.pickeringtest.com.



Press contact:

Kimberly Otte

email: kim.otte@pickeringtest.com





More from Agricultural & Farming Products