Faucets feature electronic or mechanical actuation.
Press Release Summary: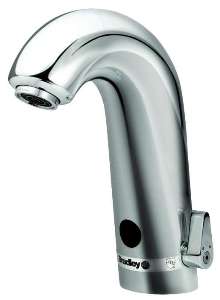 Aerada(TM) line includes faucets with heavy-duty commercial features such as solid cast brass components, anti-rotational trimplates, and flexible stainless steel supply hoses. All faucets feature 0.5 gpm, vandal-resistant aerator. Electronically activated faucets in 800, 900, 1,000 (Gooseneck), and 1,100 (Low Arc and High Arc) Series use IR activation. Mechanically activated 90-75 and 90-80 Series faucets are also available.
---
Original Press Release:

Bradley Increases Faucet Options with New Aerada(TM) Line


MENOMONEE FALLS, WIS., (Nov. 22, 2004) - Bradley Corp. is enhancing its line of commercial faucets with the introduction of the Aerada(TM) Faucet family. With seven different series of products in the Aerada line, many new electronic and mechanical faucet options are available for education, retail, industrial and health care applications.

"The Aerada brand of faucets has been designed to expand Bradley's product offering and adapt to the dynamic requirements we're seeing in different commercial niches," said Todd Platta, product manager for Bradley Corp. "We are a one-stop source for washroom products, so we're creating a well-rounded faucet line that complements our other products, including plumbing fixtures, showers, valves and accessories."

Bradley's Aerada faucets incorporate several heavy-duty commercial features, such as solid cast brass components, anti-rotational trimplates and flexible stainless steel supply hoses. All Aerada faucets feature a water-conserving 0.5 gallons per minute (GPM) vandal-resistant aerator. The Aerada electronically activated faucets include the 800, 900, 1000 and 1100 Series. Each of these faucets uses a reliable form of infrared activation.

Capturing current design styles and trends, Bradley's new 1100 Series of Low Arc and High Arc faucets give a smooth, updated look to any style of sink. The 1000 Series Gooseneck faucets can be configured in a number of ways to meet the requirements of different applications. For example, it is possible to specify a non-aerated, laminar flow gooseneck model for health care facilities.

Currently, the Aerada mechanically activated faucets consist of the 90-75 and 90-80 Series faucets. The 90-75 Series Metering faucets feature a durable chrome-plated, solid cast brass body with an ADA-compliant pushbutton touch activation. The 90-80 Series Wristblade faucet consists of a 4-inch integral spout and dual ADA-compliant wristblade handles. All mechanical series faucets combine durability with time-tested, reliable activation.

For over 80 years, Bradley Corporation has designed and manufactured commercial washfountains, and today is the industry's exclusive source for plumbing fixtures, washroom accessories, partitions, emergency fixtures and solid plastic lockers. Serving commercial, industrial, health care, recreation, education, and corrections markets worldwide, Bradley is headquartered in Wisconsin. For more information, contact Bradley, Telephone: (800) Bradley; Fax: (262) 251-5817; www.bradleycorp.com.

More from Mechanical Power Transmission