Fastorq Brings 'Tool Revolution' to 0TC 2013!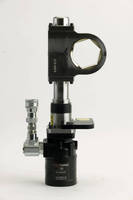 Hundreds of OTC 2013 visitors learned that it's time to stop accepting the "industry standard" of slow and weak hydraulic tools and start demanding speed, innovation and strength with every tool purchase. They realized it is time to join the FASTORQ tool revolution.



With its top-of-the-line hydraulic tools, FASTORQ understands what innovation, speed and durability really mean. Founded by the first revolutionary in the bolting tool industry, George A. Sturdevant, FASTORQ constantly strives to design, manufacture and sell tools so incredible they can only be called a tool revolution.



"At FASTORQ, we make our tools so fast, innovative and tough that you'll stop accepting the current industry standard of slow and weak tools," states Bill Washington, FASTORQ Director of Business Development. "We believe in our tools and enjoyed showing them off to everyone at our OTC booth."



One of the most popular products at this year's FASTORQ booth was the 360-degree continuously rotating SpinTORQ torque wrench. There's no other low-profile torque wrench like it in the world. OTC visitors were able to see for themselves the impressive speed of the SpinTORQ. Recently, SpinTORQ was tested against a comparable and popular "industry standard" torque wrench and destroyed the competition by making up the same flange 80 percent FASTER! People also learned during OTC how well the SpinTORQ works with ROVs and its ability to deliver full power in both forward and reverse.



FASTORQ's booth also featured such revolutionary tools as the toughest break-out wrench in the world – ThinLINE; the one-and-only double-cutting nut splitter available today –AutoSPLITTER and the best solution for eliminating most pipe yard and drill deck accidents – the AutoTORQ Hydraulic Chain Pipe Wrench. In addition, OTC conference goers learned about FASTORQ's ZipNut Technology, which was originally developed for NASA, and saw the unbelievable, damaged stud FastLUBE AG demonstration.



Learn why so many OTC 2013 visitors stopped by the FASTORQ booth to see a revolution in the making by going to www.fastorq.com. Vive la Revolution!

Related