FastMaint CMMS Maintenance Management Software License Giveaway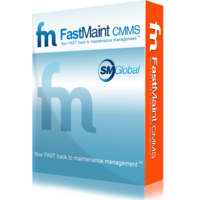 SMGlobal announces a giveaway of their FastMaint CMMS software, a computerized maintenance management software program. Poor equipment maintenance & breakdowns can be a significant source of costs and customer dissatisfaction in many industries. CMMS software helps organizations better manage their maintenance operations. Maintenance managers can use FastMaint to schedule & track preventive maintenance and breakdown repairs of industrial equipment and commercial facilities. For more details and to enter the giveaway, visit https://www.smglobal.com/g21ba. The giveaway will end on Thursday, 25th February 2021.
FastMaint CMMS lets maintenance managers schedule both preventive maintenance and corrective maintenance work, send work orders to the maintenance staff on their mobile phones, receive feedback from the maintenance workers, and track the progress of all outstanding and completed jobs. It can be used for on-site maintenance or field service management.
The software has enterprise asset management features to track equipment and facilities, inventory management, and maintain supplier records for ordering spares and equipment. FastMaint automatically schedules maintenance activities based upon dates, meter readings, emergency conditions, or any criteria that the maintenance planner specifies. Users can create work order templates for planned maintenance, and to deal with breakdowns and other emergencies. In addition they can insert pictures, and link their work instructions to outside supporting documents.
For more information, contact SMGlobal Inc., 5448 Apex Peakway #308, Apex, NC 27502 USA Phone: (919) 647-9440 Email: sales@smglobal.com
Internet: http://www.smglobal.com
Since 2002, SMGlobal Inc. has been marketing FastMaint CMMS, its computerized maintenance management system. Customers use FastMaint CMMS to manage the maintenance of industrial plants, commercial buildings and facilities, utilities (power, water, sewer), and equipment of all types.
Customers who use FastMaint CMMS include Northrop Grumman Corporation, CIGNA, Westin Hotels, the Australian Department Of Defense, Pepsico, City Of Boulder Water Treatment, North American Energy Services, and hundreds of other enterprises worldwide. For more information, visit www.smglobal.com
Contact: Sanjay Murthi, (919) 647-9440, smurthi@smglobal.com
More from Electrical Equipment & Systems