Fastest, Most Advanced Weather Radar Aims to Improve Warning Times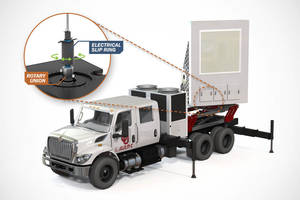 MINNEAPOLIS, Minn. - March 3, 2020 - Each year weather-related disasters affect millions of people, resulting in billions of dollars of damage worldwide. Although these events cannot be prevented, new innovations in weather radar technology are under development to help improve forecasts and storm predictions; giving communities more time to prepare for dangerous weather, potentially saving lives and minimizing damage to infrastructure.
For nearly a decade, engineers and researchers from the University of Oklahoma's Advanced Radar Research Center (ARRC) have been developing new technology by combining two long-established radar systems - "phased array" and "dual polarization".
ARRC is nearing completion of their mobile, all-digital, polarimetric phased array radar called 'Horus', named after the Egyptian god of the sky. Horus will be the fastest and most advance radar in the nation, capable of distinguishing between storm cells containing snowflakes, raindrops, hail stones or other targets all within 30 seconds or less of scanning the sky.
Onboard the five-passenger vehicle, you will find everything required to support a safe, reliable and fast deployment mission including two generators, a large slew drive capable of rotating the whole radar 360 degrees and a liquid chiller to help keep all electronics within a well-controlled temperature range.
Fluid and electricity reliably transmit between the turret deck and the continuously rotating radar which is accomplished with DSTI's custom-developed rotary union and slip ring assembly. Coolant exits the chiller and enters the rotary union's stationary inlet channel where specialized seals are used to prevent pressurized fluid from escaping as it flows through the component and exits the outlet channel (which rotates with the radar).
"Developing a rotary union for this project was both exciting and challenging for our team," said DSTI senior design engineer Phil Engelman.
"We had to develop a solution to fit within a limited space, keep the weight minimal and endure the harsh environments and conditions it would be exposed to."
Once complete, Horus not only offers forecasters with the most up-to-date imagery available but will serve as a test platform for demonstrating the benefits this new technology can provide to the National Oceanic and Atmospheric Administration (NOAA) and the U.S. Department of Defense, Office of Naval Research.
ABOUT DSTI
Dynamic Sealing Technologies, Inc. (DSTI) specializes in the design and manufacturing of application-specific fluid solutions worldwide. DSTI's engineered fluid sealing products transfer hydraulic oil, chemicals, water, air, and a variety of other liquids and gases for rotating applications. The company offers custom integrated solutions to meet the unique design, manufacturing, testing, and qualification requirements of each project. DSTI has a full line of in-stock, standard fluid and electrical products including fluid rotary unions and electrical slip rings designed to meet a wide range of industrial applications.