Fastening Tool Series offers 2-120 Nm tightening torque.
Press Release Summary: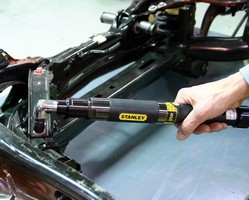 Lightweight EA series dc electric threaded fastening tools features compact housing, brushless dc servo motor, and ergonomic handle with multiple light sets for 360° operator viewing. Series also includes angle-style EA tools which use Zerol® spiral bevel gear geometry for durability.
---
Original Press Release:

Stanley Introduces a Lighter, Faster, and Stronger DC Electric Fastening Tool



April 24, 2007 - Stanley Assembly Technologies introduces the new EA series tools to its QPM lineup of DC electric threaded fastening tools. High-performance, lightweight, flexible, and powerful, EA tools are built with higher-power motors and compact housings that yield best-in-class performance for tightening torque ranges from 2 to 120 Nm.

"EA tools have a power-to-weight ratio that is unrivaled in the DC electric tools market," stated Doug Versele, Global Product Manager of Stanley Assembly Technologies. "And the QPM Parameter Wizard with Adaptive Tightening Control (ATC) makes this the fastest and easiest setup of any DC system - period."

Features of the EA tools include:

Brushless DC servo motors that generate maximum power and acceleration from minimal size and weight to obtain first-class power-to-weight ratios
Angle-style EA tools, which use Zerol® spiral bevel gear geometry to build in durability and high performance
Lightweight, ergonomic handle with multiple light sets for 360-degree operator viewing
Long life, fewer failures, high performance, and modular ergonomic design all contribute to a lower total cost of ownership and increased productivity.

For additional information, contact Stanley Assembly Technologies at (440) 461-5500 or visit www.StanleyAssembly.com. Stanley Assembly Technologies provides solutions to the global assembly market, including the motor vehicle industry. Core solutions include high-performance Stanley® DC electric and pneumatic tightening tools and controllers, conventional pneumatic articulating arms, torque tubes, and Cobotics(TM) Intelligent Assist Devices for ergonomic material handling.

The Stanley Works (NYSE: "SWK") is a worldwide supplier of consumer products, industrial tools, and security solutions for professional, industrial, and consumer use. Consumer products include hand tools, mechanics tools, tool storage, and hardware. Industrial tools include fastening systems, auto assembly tools, storage systems, professional laser measuring and leveling tools, and hydraulic attachments. Security Solutions includes the integration and supplying of security systems and access control solutions, including automatic door and locking systems for commercial applications.

Our innovative Consumer and Industrial products help people utilize their skills, express their creativity, and realize their visions on work sites around the globe. Brand names include Stanley®, Husky®, Cobotics(TM), Goldblatt®, Bostitch®, Jensen®, Mac®, Proto®, LaBounty®, Vidmar®, CST®, David White® and Zag®. Our Security Solutions brands include Stanley®, Best®, Blick® and Frisco Bay®.

Please let me know if for some reason you are unable to use the text above.

Thank you for your time. If you have any questions about Stanley Assembly Technologies or about this release, please feel free to contact me via the information provided below.

More from Electrical Equipment & Systems