Fasteners minimize strut installation time.
Press Release Summary: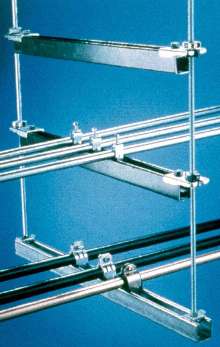 ISN Smart Nuts and ISSP Strut Plates allow users to create multiple-strut trapeze installations. ISN Smart Nuts snap anywhere on 3/8-16 threaded rod and are adjustable and removable. With 220 lb load rating, products have flat-surface construction that eliminates need for washers. ISSP Strut Plates allow for attachment of struts between existing rods. Bolts have locking design that eliminates loosening due to vibration.
---
Original Press Release:

Two New Caddy Fasteners from Erico for Multiple Strut Trapeze Applications


FOR IMMEDIATE RELEASE - SOLON, Ohio, March 14, 2003 - Two new CADDY Fasteners from ERICO - the ISN Smart Nut and the ISSP Strut Plate - allow you to easily create multiple strut trapeze installations.

o The ISN Smart Nut reduces installation time because it snaps anywhere on 3/8"-16 threaded rod and is adjustable and removable. It is ideal for installations where rod ends are not accessible. With a load rating of 220 lbs., it supports plumbing, HVAC and electrical and is ideal for retrofit applications. The ISN nut's flat surface construction eliminates the need for a washer.

o The ISSP Strut Plate allows for easy attachment of strut between existing rods. It eliminates precise cutting of strut and the need for multiple hardware pieces. The ISSP can be used in commercial and industrial applications and has a load rating of 220 lbs. The specially designed bolt has a "locking design" to eliminate loosening or "backing off" due to vibration.

Installed together, the ISN and the ISSP create an easy-to-install system that minimizes installation time and eliminates the need for additional structure fasteners and drop rods. For more information about the ISN/ISSP, call ERICO at l-800-252-2339.

Celebrating its 100th year, ERICO is a diversified global manufacturer with a network of offices and manufacturing facilities in over 24 countries and with more than 1400 employees. Headquartered in Solon. Ohio, USA. ERICO has two businesses: the Fixing and Fastening Business selling Electrical and Mechanical Fixings and Fasteners and Concrete Reinforcement products: and the Electrical Business offering Facility Electrical Protection, Panelboard and Rail and Industrial Electrical products. Well-known brand names include: CADDY® fixings and fasteners; CADWELD® welded electrical connections; CRITEC® surge protection devices: ERIFLEX® low-voltage components featuring FLEXIBAR busbar: ERITECH® lightning protection and grounding; and, LENTON® mechanical rebar splices. Visit ERICO online at www.erico.com.

More from Electrical Equipment & Systems