Fasteners eliminate need for nuts and bolts.
Press Release Summary: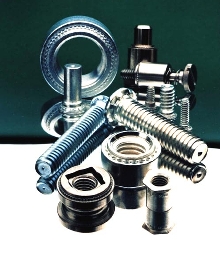 Steel, stainless steel, and aluminum self-clinching devices provide permanent load-bearing threads in metal sheets too thin to be tapped. Fasteners also can serve as alternatives to extruded or stamped threads. They are available in dozens of types and thousands of variations, including free-running, self-locking, floating, and blind hole types meeting unified, ISO, and MIL standards. Fasteners can be installed permanently in metal sheets as thin as 0.020 in.
---
Original Press Release:

PEM(R) Self-Clinching Fasteners Provide Permanent Threads In Thin Metal Sheets


DANBORO, PA, April 30, 2002 -- A complete line of PEM(R) self-clinching fasteners is available from PEM Fastening Systems to provide permanent load-bearing threads in metal sheets too thin to be tapped. These steel, stainless steel, and aluminum fasteners also can serve as reliable alternatives to extruded or stamped threads. They are available in dozens of types and thousands of variations, including free-running, self-locking, floating, and blind hole types meeting unified, ISO, and MIL standards.

Self-clinching fasteners can be installed permanently in metal sheets as thin as .020"/0.51mm and can eliminate a need for washers, lock washers, nuts, and bolts to attach components. Since they become an integral part of a sheet in which they are installed and reduce the amount of necessary attaching hardware, these types of fasteners promote quicker product assembly and reduced costs for applications including electronics, communications, aerospace, and automotive products and components.

Installation of self-clinching fasteners is accomplished simply by pressing the fastener into place in a properly sized drilled or punched hole. This process causes displaced sheet material to cold flow into a specially designed annular recess in the shank or pilot of the fastener, locking the fastener in place. A serrated clinching ring, knurl, ribs, or hex head prevents the fastener from rotating in the metal when tightening torque is applied to the mating screw or nut.

Contact Michael J. Rossi, PEM Fastening Systems, Box 1000, Danboro, PA 18916. Phone: (800) 237-4736 or (215) 766-8853; Fax: (215) 766-0143. Web site: www.pemnet.com

PEM(R) Fastening Systems: Danboro, Pennsylvania 18916-1000; Web Site: www.pemnet.com

More from Fasteners & Hardware