Polybutylene Terephthalate (PBT)
Fast Track to Success with Eco-Friendly Connectors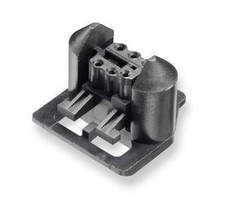 Halogen-free fire protection with Vectra® LCP and Celanex® XFR® from Ticona

Kelsterbach/Germany, Florence/Kentucky, September 16, 2009 - To remain competitive in the electrical /electronics industry today, eco-friendly solutions for fire protection are becoming increasingly important. For this reason, globally operating companies, Meritec and Molex, use Vectra® LCP and Celanex® XFR® halogen-free plastics in the production of connectors.

"Vectra liquid crystalline polymer is inherently flame-retardant and so requires no halogenated (or other) additives to provide fire protection. In addition, the material withstands short-term temperature peaks up to 340°C and is therefore ideally suitable for the high temperatures encountered in lead-free soldering," explains Frank Johanning, Marketing Manager for LCP at Ticona. Meritec produces connectors from the Ticona LCP, which effortlessly meet the requirements of the EU RoHS Directive (Restriction of the Use of Certain Hazardous Substances in Electrical and Electronic Equipment) and the EU WEEE Directive (Waste Electrical and Electronic Equipment Directive).

This highly crystalline thermoplastic also withstands the high soldering temperatures used in surface-mount technology (SMT). "Because our Vectra LCP is inherently flame-retardant and so requires no flame-retardant additives, it is superior to the newly developed halogen-free, high-temperature-resistant materials offered by our competitors. These contain all kinds of flame-retardant additives, which can lead to processing problems with corrosion of the barrels, screws and tools. They can also adversely affect material properties and cause surface defects," says Johänning.

Changeover to halogen-free Celanex XFR

Molex Incorporated uses an entirely different polymer, optimized polybutylene terephthalate (PBT), for the production of its SPOXTM BMI (Blind Mate Interface) connectors. To satisfy increasing environmental requirements, the company has switched to halogen-free Celanex® XFR® 4840. This polymer offers improved processability for the same property profile and so makes cost-efficient production possible.

The new Celanex PBT series, with its patented XFR flame retardant system, offers numerous advantages. There is no particle migration during processing, no corrosion of contacts or conductors and, in the event of fire, no release of toxic gases. Manufacturers also benefit from the outstanding electrical and thermal values and excellent colorability and color retention of the PBT grades.

For environmental reasons, the globally operating companies, Meritec and Molex, use Vectra® LCP and Celanex® XFR® halogen-free plastics in the production of connectors.

Unless otherwise stated, all registered trademarks are owned by Ticona or its affiliates.

Molex is a registered trademark of Molex Incorporated.

Spox is a trademark of Molex Incorporated.

About Meritec

Meritec, Painesville, Ohio, USA belongs to Ohio Associated Enterprises LLC. The company is a manufacturer and global supplier of specialty connectors and high-end cables. Meritec has over 40 years' production experience in the USA.

For further information, please visit www.meritec.com.

About Molex

Molex Incorporated was founded 70 years ago and is a global manufacturer of electronic, electrical and fiber-optic interconnect systems. The company is based in Lisle, Illinois, USA and operates 45 production facilities in 17 countries.

Further information is provided on the Molex website at www.molex.com.

About Ticona and Celanese

Ticona, the engineering polymers business of Celanese Corporation, produces and markets a broad range of high performance products, and posted net sales of $1.06 billion in fiscal 2008. Ticona employs approximately 2,000 individuals at production, compounding and research facilities in the USA, Germany, Brazil and China. For more information, please visit www.ticona.com or www.ticona.cn (Chinese language).
As a global leader in the chemicals industry, Celanese Corporation makes products essential to everyday living. Our products, found in consumer and industrial applications, are manufactured in North America, Europe and Asia. Net sales totaled $6.8 billion in 2008, with approximately 65% generated outside of North America. Known for operational excellence and execution of its business strategies, Celanese delivers value to customers around the globe with innovations and best-in-class technologies. Based in Dallas, Texas, the company employs approximately 8,350 employees worldwide. For more information on Celanese Corporation, please visit the company's website at www.celanese.com.


More from Materials