Fast-Cure Silicone is stable in harsh environments.
Press Release Summary: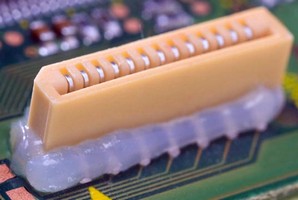 Suited for wire tacking, selective sealing, vibration dampening, and rework/repair applications on PCBs, Loctite® 5210(TM) is highly thixotropic silicone material that has dispense times as little as 31 sec (2 connectors) and tack-free time of less than 5 min. Non-corrosive room temperature vulcanization (RTV) silicone material cures at room temperature and will hold its form upon dispense; there is no spreading or migration to other locations where it is not desired.
---
Original Press Release:

Henkel Launches New Fast Cure Silicone Ideal for Added Stability within Harsh Environments



To offer added protection and stability for a wide range of electronics applications, Henkel has developed and made commercially available Loctite® 5210(TM), a new fast cure thixotropic silicone material ideal for devices that find end-use within harsh environments. With improved production throughput, operating temperature flexibility and easy storage, Loctite 5210 offers manufacturers a cost-effective alternative to traditional hot-melt glues or less aesthetically pleasing silicones.

In particularly stressful end-use environments such as control boards, connectors, automotive modules and construction equipment, additional stability is often required to avoid device damage or system failure. Common damage seen in these types of environments may include bent leads, non- functional components due to vibration or material degradation. Henkel's Loctite 5210 helps protect against these adverse occurrences. Unlike hot-melt glues which are often used for these applications but can be messy and hazardous in production environment, Loctite 5210 offers manufacturers an automated, safe and easy to use product while delivering considerable performance benefits as compared to competitive materials.

"This new silicone system is a vast improvement over hot melt glues," states Tara Cary, Henkel Global Product Manager for circuit board protection materials. "Not only can glues be harmful and messy, they may also pose corrosion issues due to their high ionic content and, when used in high temperature environments, can actually melt and flow away. Either of these conditions could result in device failure. With Loctite 5210, application is clean and simple and material integrity is maintained."

Loctite 5210 is an ultra fast curing, non-corrosive room temperature vulcanization (RTV) silicone material that has been designed for a variety of uses including wire tacking, selective sealing, vibration dampening and rework/repair applications on printed circuit boards (PCBs). With extremely fast dispense times - as little as 31 seconds for two connectors - and a tack free time of less than 5 minutes, Loctite 5210 offers manufacturers a high UPH alternative to other materials. It is also highly thixotropic, so the material will hold its form upon dispense and will not spread or migrate to other locations where the material is not desired. The silicone system cures at room temperature so no additional equipment investment is required to quickly integrate Loctite 5210 into the production environment.

For more information on Loctite 5210 or any of Henkel's circuit board protection products, please call the company's headquarters at 949-789-2500 or log onto http://www.henkel.com/electronics.

About Henkel
For more than 130 years, Henkel has been a leader with brands and technologies that make people's lives easier, better, and more beautiful. Henkel operates in three business areas -- Home Care, Personal Care, and Adhesives Technologies -- and ranks among the Fortune Global 500 companies. In fiscal 2007, Henkel generated sales of $19.218 billion and operating profit of $1.975 billion. Our 53,000 employees worldwide are dedicated to fulfilling our corporate claim, "A Brand like a Friend," and ensuring that people in more than 125 countries can trust in brands and technologies from Henkel.

Contact
Henkel Corporation doug.dixon@us.henkel.com
Doug Dixon http://www.henkel.com/electronics
Phone: 949-789-2500
Fax: 949-785-2595

More from Thermal & Heating Equipment