Fasnap Corp. Expands Grommet Line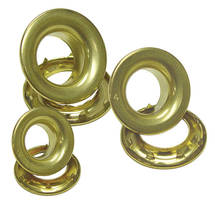 Fasnap® now offers rolled rim grommets with spur washers in sizes #0 to #5.5. These grommets can be set using a variety of methods, and are available in brass, brass/nickel and brass/black oxide.

This grommet line is ideal for heavy-duty applications such as tarps, awnings, and sign and banner applications.

For more information contact a sales representative today.

FASNAP® CORP.

3500 Reedy Drive

Elkhart, IN 46514

800.624.2058

574.264.1185

574.264.0802 fax

www.fasnap.com

sales@fasnap.com

FASNAP® CORP., an ISO 9001:2000 registered company, is a premier supplier to the industrial textile industry. Fasnap® has become a leader in the industry by offering high quality, innovative fasteners and expert fastening solutions. Fasnap ® was founded in 1981 in Elkhart, Indiana, and opened an Orlando, Florida location in 2003. Through a network of national distributors, Fasnap® serves the marine, automotive, upholstery, sign & banner and other specialty textile industries.

More from Architectural & Civil Engineering Products