Farm Platform is available with UpSuite(TM) middleware.
Press Release Summary: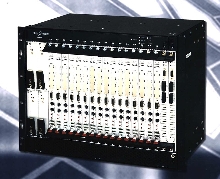 nFUZION-8U/CHS, CompactPCI® Ultra SPARC IIe NEBS Compute
Farm Platform integrates seamlessly into applications that typically only 12-15U server farm systems could accomplish. PICMG 2.16-compliant, 8U CompactPCI enclosure features Solaris 8 Operating System support, 8+8+2-slot split backplane, and from 2 to 16 IBC2400 Ultra Sparc IIe Single Board Computers. Also included are 2 PICMG 2.16 Layer 3 managed switches and four, 200 W hot-swap DC power supplies.
---
Original Press Release:

I-Bus/Phoenix Introduces nFuzion-8U/CHS CompactPCI(R) Ultra Sparc IIe(TM) NEBS Compute Farm Platform


- Fully PICMG 2.16 PSB compliant system
- Fully configured 2 to 16 blade server
- Standard server platform supporting Solaris
- Available with UpSuite(TM) High Availability middleware
- 8U high density computing platform
- Available from IBP facilities worldwide with 4 week lead times during production

San Diego, CA - I-Bus/Phoenix (IBP) announces the introduction of the nFUZION-8U/CHS, CompactPCI® Ultra SPARC IIe NEBS Compute
Farm Platform. The nFUZION line of application ready platforms meet the stringent space and environmental requirements of the network core, cable head end, telecom central office, wireless remote base station and densely packed data center. The nFUZION-8U/C family of load balanced cluster compute farm platforms integrate seamlessly and efficiently into applications that typically only 12-15U server farm systems could accomplish. They are ideal as highly scalable, high density, high performance blade server farms, render farms, video on demand platforms and voice services platforms.

Like all FUZION platforms, the 8U line is backed by IBP global sales, support, manufacturing and agency approvals, in addition to OEM revision control.

The IBP designed and manufactured 8U, PICMG 2.16 compliant CompactPCI enclosure features Solaris 8 Operating System support, an 8+8+2-slot split backplane, and from 2 to 16 IBC2400 Ultra Sparc IIe long life cycle Single Board Computers for maximum OEM project life. Also included are two industry standard PICMG 2.16 Layer 3 managed switches for advanced network functionality and four, 200W Hot-swap DC power supplies (500W N+1). Additional features include an optional IBP Fully IPMI compliant System Management Controller (SMC) and Baseboard Management Controller/Peripheral Management Controller (BMC/PM) with SNMP software options.

"I-Bus/Phoenix is pleased to add a Sun SPARC offering to our family of highly reliable, highly available and highly maintainable 8U compute farm platforms," said Johni Chan, I-Bus/Phoenix's VP of Engineering. "Our enhanced system expertise and third party collaborators allow I-Bus/Phoenix to exceed the expectations of even the largest OEM customers."

The I-Bus/Plhoenix commitment to premier technology collaborations is inherent in the nFUZION-8U/CHS. I-Bus/Phoenix has qualified the Continuous Computing UpSuite cluster middleware package as an option with the nFUZION-8U/CHS blade server. UpSuite provides sub-second application failover as well as advanced IP based disk and memory state replication. I-Bus/Phoenix and Continuous Computing provide the optimum High Availability software and hardware for truly mission critical applications.

General availability of the nFUZION-8U/CHS platform with full options will be August 2002. This platform is also available as part of the IBP Compute Farm Early Access Program which starts this month. OEMs interested in the Early Access Program should
visit ibus.com/eaprogram for full program information. Pricing for a typical nFUZION-8U/CHS system in OEM quantities is $24,495.

For more information on FUZION and other I-Bus/Phoenix products, please visit our newly re-designed company web site at www.ibus.com or e-mail us at info@ibus.com. For product pictures, please visit http://ibus.com/editors/products/fuzion.html

I-Bus/Phoenix is an ISO-9001 quality-certified world leader in the design, manufacture and support of high performance, industrial-grade power and computer systems. In addition, I-Bus/Phoenix offers customized, partner-oriented services focused on meeting the needs of OEMs including purchasing collaboration, stable supply-chain management, configuration control, and complete system integration and test services. With our "Best of Breed" partners program, we offer complete application ready solutions utilizing technologies developed both in-house and by third party industry leaders, delivered in a collaborative environment to provide the OEM customer a level of global support that ensures success, allowing OEMs to focus on their core competencies, rather than on managing a diverse set of independent vendors.

For further information contact:
Denise Serrano
I-Bus/Phoenix
8888 Balboa Avenue
San Diego, CA 92123
Tel: +1 (858) 503-3077
Fax: +1 (858) 503-3005
Email: dserrano@ibus.com

United Kingdom: Cathy Clark, I-Bus/Phoenix,
Tel: +44 (0) 1243 756441 Email: sales@ibus.co.uk

France: Catherine Kervarec, I-Bus/Phoenix,
Tel: +33 (0) 493 004360 Email: ventes.fr@ibus.com

Germany: Ulrich Diehl, I-Bus/Phoenix,
Tel: +49 (0) 814 246790 Email: verkauf@ibus.com