Fanless Panel PCs provide low-noise operation.
Press Release Summary: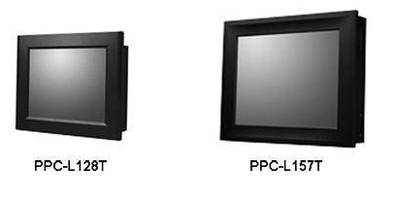 Powered by Intel® Atom(TM) N270 processors combined with 945GSE + ICH7M chipsets, 12.1 in. Model PPC-L128T and 15 in. Model PPC-L157T offer choice of standard SVGA resolution at 800 x 600 pixels or XGA resolution up to 1,024 x 768 pixels. Both are equipped with IP65/NEMA4 compliant front bezels and dual Gigabit Ethernet connectors supporting failover or LAN teaming. Model PPC-L128T optionally supports sunlight readable display, making it suitable for outdoor use.
---
Original Press Release:

Advantech's New Fanless Panel PCs Balance High Performance and Low Power Consumption



Advantech, the leading global ePlatform services provider, is happy to announce two new fanless panel PCs powered by Intel® Atom(TM) N270 processors. The PPC-L128T and PPC-L157T are 12.1" and 15" fanless panel PCs that deliver high performance while consuming low power. They operate with low noise and provide display resolutions up to 1024 x 768 (XGA) pixels. The PPC-L128T and PPC-L157T PCs are both equipped with dual Gigabit Ethernet connectors supporting either failover or LAN teaming. Advantech's customization services and optional accessories including wireless modules, battery packs, and SATA optical devices, allow system integrators to design tailor-made solutions to a host of industrial applications. And PPC-L128T optionally supports a sunlight readable display, making it suitable for outdoor use.

Cost-Effective Delivery Balances Low Power Consumption and High Performance

The PPC-L128T and PPC-L157T are optimized to deliver the best of performance while saving power consumption costs, thanks to an Atom(TM) 1.6 GHz N270 processor combined with 945GSE + ICH7M chipsets. These chipsets are rated at 2.5W, 4W, and 1.5W respectively. The system's fanless design provides passive cooling, and low noise operation makes PPC-L128T and PPC-L157T suitable for many environments-for instance, at an admissions area or in other public locations at a hospital. The industrial-grade panel PC front bezels are IP65 and NEMA4 compliant, and the systems are tested to 1G for vibration.

BIOS Selectable Panel Resolution

PPC-L128T and PPC157T Panel PCs are both capable of displaying XGA resolutions, and are also capable of displaying standard SVGA resolutions at 800 x 600 pixels. The choice allows greater flexibility to support a variety of applications, and is a simple matter to change in BIOS. For example, an outdoor traffic control system was designed that took advantage of the 5-wire resistive/glass touchscreen displays offered by Advantech panel PCs and the optional sunlight readable capability.

LAN Teaming Meets the Needs of System Integrators

PPC-L128T and PPC-L157T both support LAN teaming and failover configuration using dual -Gigabit Ethernet LAN connectors. With teaming, the two physical NICs can be configured as one logical connection, effectively doubling the throughput. With failover, the two physical NICs can be attached to separate network switches, allowing for continued operation and redundancy in the event of failure of one network path. System integrators can make the choice based on application needs.

Customization Services and Options Provide Flexibility

There are many options available for configuration of the PPC-L128T and PPC-L157T panel PCs: a PCI/PCIe expansion kit, a SATA DVD-RW or a Combo optical drive, a power adaptor, a battery pack offering 1.5 hours of operation, and IEEE 802.11b/g wireless LAN connectivity. In addition the PCshave an abundance of I/O connectors: Line in/out, Mic-in, serial ports, GPIO, and USB 2.0 ports. There is also a type II CompactFlash socket. Advantech customization services allow for color, bezel, and logo changes, giving PPC-L128T and PPC-L157T panel PCs specific looks to meet individual needs.

The PPC-L128T is available now. The PPC-L157T will be available in early December. For more information regarding Advantech panel PC products, please contact our local sales office or visit www.advantech.com.

About Advantech -Founded in 1983, Advantech delivers visionary and trustworthy industrial computing solutions that empowerbusinesses. Advantech is a Premier Member of the Intel® Embedded and Communications Alliance, a community of embedded and communications developers and solution providers. We cooperate closely with solution partners to provide complete solutions for a wide array of applications in diverse industries, offering products and solutions in three business categories: Embedded ePlatform, eServices & Applied Computing, and Industrial Automation groups. With more than 3,400 dedicated employees, Advantech operates an extensive support, sales and marketing network in 18 countries and 39 major cities to deliver fast time-to-market services to our worldwide customers. (Corporate Website: www.advantech.com).

More from Architectural & Civil Engineering Products