Fanless Panel PC offers scalable computing power.
Press Release Summary: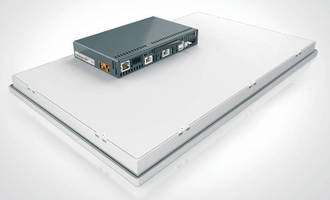 With single-, dual-, or quad-core Intel® Atom® processors, Panel PC 2100 leverages graphics engine that is derived from Core™ i technology and provides processing up to Full HD. DirectX 11 support is standard. Equipped with PC module, any 2nd generation Automation Panel can be turned into a full-fledged Panel PC. Other features include 2 Gigabit Ethernet, USB 2.0, and USB 3.0 interfaces; compact MLC-based CFast cards up to 60 GB; and configurable fieldbus technology.
---
Original Press Release:

Maximum Performance Comes in Small Packages



B&R presents the Panel PC 2100 – with the latest Intel® Atom technology



The new Panel PC 2100 from B&R is a full-fledged PC system whose exceptional performance is concealed by its ultra-compact housing. The innovative design of this new system takes advantage of the latest Intel® Atom technology and represents a decisive advancement in the performance of embedded systems. And the price/performance ratio couldn't be more optimal.



Equipped with a PC module, which has the same dimensions as a Smart Display Link or DVI receiver, any 2nd generation Automation Panel can be turned into a full-fledged Panel PC – including completely closed panels mounted on a support arm.



Scalable and maintenance-free

Available with single-, dual- or quad-core processors, the computing power of the Panel PC 2100 is fully scalable. At the high range of performance, it's even possible to exceed the performance of CoreTM i3 chips. Regardless of the variant, no fans or other rotating components means that no maintenance whatsoever is required. Other standard features include two Gigabit Ethernet interfaces as well as one USB 2.0 and one USB 3.0 interface. Fieldbus technology such as POWERLINK or CAN can be individually configured through the use of interface modules, and compact MLC-based CFast cards up to 60 GB and more are available to meet every memory need.



Optimal graphics performance

The graphics engine used in Intel® Atom processors is derived from Core i technology and provides powerful processing all the way up to Full HD. This is also the first time that support for DirectX 11 is provided in this segment, opening up even more possibilities for enhanced graphic capabilities in SCADA and other HMI systems.



The PC module for the Panel PC 2100 from B&R is much more powerful than its small size suggests.



B&R company profile

As a global leader in industrial automation, B&R combines state-of-the-art technology with advanced engineering to provide customers in virtually every industry with complete solutions for machine and process automation, motion control, HMI and integrated safety technology. With industrial fieldbus communication standards like POWERLINK and openSAFETY as well as the powerful Automation Studio software development environment, B&R is constantly redefining the future of automation engineering.



B&R Industrial Automation, Inc. North America, based in Atlanta, GA, has been working closely with its customers since 1987. Since then, B&R North America has continuously grown as a sales and support organization through both direct sales offices and B&R's unique Automation Partner distribution network. Today, B&R North America has a network of more than 25 offices throughout the USA and Canada and is there for its customers locally.   For more information, please visit www.br-automation.com

More from Controls & Controllers