Fanless Embedded Controller operates from -40 to 185°F.
Press Release Summary: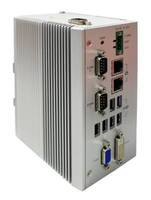 Based on Intel® Celeron® J1900 2 GHz or Intel® Atom™ E3845 1.91 GHz processor and Intel® HD graphics, Model ARES-530WT Box PC is suited for indoor/outdoor kiosks, multi-display signage, and data acquisition. Box PC comes equipped with DB9 male connectors for RS-232/422 and RS-422/485, 1 USB3.0 and 5 USB2.0 ports, 2 RJ-45 ports both delivering GbE, 1 VGA and 1 DVI-D connector, plus half-size mini-card socket and 2 mSATA sockets for SSD. Unit may be mounted in variety of ways, including DIN rail.
---
Original Press Release:

Arbor Solution Pushes Maximum Temperature Limit with Latest ARES Extended-Temperature Box PC



Rugged ARES-530WT Fanless Embedded Controller Has 185 Degree Upper-Temperature Rating, Negative 40 Degree Lower-Temperature Rating, Is DIN Rail Mountable, and Offers Numerous I/O Connections; Excellent for Kiosks, Multi-Display Signage, and More



SAN JOSE, Calif., – Arbor Solution is adding to its line of ARES extended-temperature box PCs with the introduction of the cableless ARES-530WT embedded controller. With a temperature range of -40 to 185 degrees F (85 degrees C), the new system is atypically rugged for its class. The modular-designed box may be mounted in a variety of ways, and is even light and compact enough to be DIN rail mountable. Power-efficiency is provided by either an Intel® Celeron® J1900 2GHz or Intel® Atom™ E3845 1.91GHz processor.



Editor Note: Arbor Solution will display its ARES-530WT box PC at PACK EXPO Las Vegas in booth #S-7198, September 28-30, 2015.



"Our new rugged ARES-530WT fanless embedded controller extends upper and lower temperature limits to new heights in this category," stated Brian Yurkiw, Arbor Solution vice president. "It may be safely stored and used in areas reaching as high as 185 degrees, far surpassing competitors' 158 degree limit, and as low as -40 degrees, making the Arbor Solution ARES-530WT the perfect solution for many more applications where temperature is a major concern."



I/O Rich

The Arbor Solution ARES-530WT embedded controller features over a dozen I/O connections. Included are: serial ports (one each DB9 male connectors for RS-232/422 and RS-422/485), USB ports (five USB2.0 and one USB3.0), LAN (two RJ-45 ports both delivering GbE), video ports (one each VGA and DVI-D connectors), expansion bus (half-size mini-card socket, and two mSATA sockets for SSD), audio (line out), and a reset button.



So many connections make the unit an ideal choice for kiosks - which rely on a large number of inputs (e.g., keypad, camera, microphone, scanners, and card readers) and outputs (e.g., displays, speakers, and indicators) - and multi-display signage applications. The system's wide-temperature range capability and six USB connectors alone, make the ARES-530WT an exceptional choice for outdoor kiosks and for controlling systems located within harsh environments, such as on factory floors.



Mounting Capability

Adding to its versatility, the box may be mounted in a variety of ways, including attachments to DIN rails as well as inside NEMA (National Electrical Manufacturers Association) enclosures.



Features



--  Easy installation and maintenance

--  Power-efficient Intel® Celeron® J1900 2GHz processor or Intel® Atom™ E3845 1.91GHz processor

--  Integrated Intel® HD graphics

--  Wide temperature range (-40 ~ 185 degrees F) allows it to be safely and confidently used and stored virtually anywhere from frigid to hot environments and anywhere in between

--  Small box design allows easy replacing in the field

--  Wide-range DC power input (9 ~ 36V) with 3-pin DC input terminal block

--  DIN rail mounting kit includes quick release capability

--  Designed to be compliant to ATEX Zone 2 directive (North American classification: ANSI/UL 12.12.01-2012 Class I Division 2 (gases))

--  Vibration rating of 3G rms/5~500Hz

--  Operational shock rating of 40G peak acceleration; 60G peak non-operating

--  Constructed of cost-effective, lightweight aluminum alloy; total weight: 3.6 lbs.

--  UL508 certified

--  Support for the following operating systems: Windows Embedded 7, Windows 7 Professional, Windows Embedded Standard 8.0, Windows Embedded 8.1 Industry Pro, and Windows 8.1 Professional. The Ares-530WT is upgradeable to Windows 10.



Usages

In addition to both indoor and outdoor kiosks and multi-display signage, the Arbor Solution ARES-530WT box PC makes an excellent solution for many applications including: data acquisition, the oil and gas industry, and virtually anywhere needing specific critical tasks, multi-core processing, and/or HD graphics.



Availability and Pricing

The Arbor Solution ARES-530WT extended temperature box PC is available from authorized resellers throughout the U.S. and Canada. The barebones Ares-530WT-J1900 model starts at $675.



For more information about the Arbor Solution ARES-530WT, click here.



Configuration to User Needs

For customers with unique controller requirements, Arbor Solution's team of U.S.-based engineers can configure the ARES-530WT to meet specific needs, including operating system, hard drive and RAM memory size, and more. In addition, U.S. customers receive local application support from Arbor's San Jose, CA location.



About Arbor Solution, Inc. North America

Arbor Solution, Inc. North America provides embedded systems and rugged tablets to a variety of markets. Its expertise as an Industrial PC (IPC) provider makes it uniquely positioned to provide reliable solutions through a customer-first approach. Its products are known for their high productivity, convenience, efficiency, cost-effectiveness, and dependability. The company is at the forefront of the technology required to conduct business in challenging applications, encompassing operating environments to product size and the coding needed for specialized applications. Arbor Solution North America offices are located in the US in San Jose, CA; Florence, MA; Gaithersburg, MD; and Houston, TX; and in Canada in Ottawa, Ontario. The company is part of Taiwan-based Arbor Technology Corporation.



For more information, visit www.arborsolution.com or e-mail us at sales@arborsolution.com.



All products/services and trademarks mentioned in this release are the properties of their respective companies. ©2015 Arbor Solution, Inc. North America. All rights reserved.



Web Site: http://www.arborsolution.com



CONTACT:

Nicole Fait

Tel. 714-891-3660

Arborsolution@copernio.com

More from Transportation Industry Products