Fanless Embedded Box PC features Intel® Atom(TM) Z5xx processor.
Press Release Summary: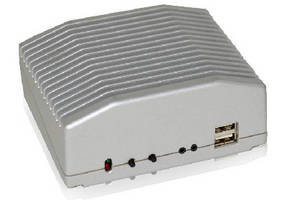 Sealed in aluminum housing for maintenance-free operation up to 11 years, Box-PC MICROSPACE® MPC-pONE is scalable from 1.1 GHz Intel® Atom(TM) Z510 processor up to 1.6 GHz Z530. Unit features Intel® USW15W Controller Hub and up to 2 GB memory. Video signals with 1920 x 1080 resolution are transmitted via DVI connector, and for data transfer, Gigabit Ethernet is available. Measuring 122 x 99 x 53 mm, application-ready platform accommodates external peripherals via 2 USB 2.0 ports on front and back.
---
Original Press Release:

Kontron Embedded Box-PC MICROSPACE® MPC-pONE with Intel® Atom(TM) Z5xx Processor



Kontron embedded Box-PC MICROSPACE® MPC-pONE with Intel® Atom(TM) Z5xx processor for power and cost sensitive applications

Application-ready platform in a fanless aluminum case for rugged designs

Eching, Germany, - Kontron today announced the new Kontron embedded Box-PC MICROSPACE® MPC-pONE, an application-ready platform for cost-sensitive applications that demand a robust design and unmatched availability. The extremely compact, fanless Box-PC is based on the long-life Intel® Atom(TM) Z5xx processors and the Intel® USW15W Controller Hub. With the completely sealed aluminum housing, operation can be carried out maintenance-free for more than 11 years in 24/7 operation (MTBF > 100,000 hours). The Kontron embedded Box-PC MICROSPACE® MPC-pONE delivers many advantages to OEMs who require an application-ready solution for limited spaces, low power and overall cost effectiveness.

The fanless Kontron embedded Box-PC MICROSPACE® MPC-pONE is scalable from the Intel® Atom(TM) Z510 processor with 1.1 GHz up to the Z530 with 1.6 GHz and provides up to 2 GByte system memory. It comes in a small footprint of only 122 mm x 99 mm which is smaller than a CD cover and can be deployed in a range of space constrained applications. The optional mounting kit enables top-hat rail mounting. Even with its low profile construction height of only 53 mm, it offers all the standard PC interfaces: Video signals with a resolution of up to 1920 x 1080 are transmitted via the integrated DVI connector. For data transfer, a Gigabit Ethernet (RJ45) is available. External peripherals can be connected via the two USB 2.0 ports on the front and at the back. A TPM takes care of data security. The robust fanless aluminum housing also has enough space to integrate an optional 500 GB 2.5" hard disk or 40 GB SSD for maintenance-free designs. Alternatively, the system can be booted via the integrated MicroSD slot, so system designs without moving parts can be created that are shock- and vibration-proof.

Another advantage for OEMs is that the new Box-PC is available as an off-the-shelf application-ready platform and can be ordered as a pre-configured platform including OS licenses and with customer-specific designs modifications. This results in an optimized supply chain and saves valuable resources. Possible application scenarios are in industrial automation, or as a kiosk or POS/POI system and in customer or information terminals. The Kontron embedded Box-PC MICROSPACE® MPC-pONE is available now.

Further information on the fanless Kontron embedded Box-PC MICROSPACE® MPC-pONE is available at:
kontron.com/products/systems+and+platforms/embedded+box+pcs/fanless+box+pc/microspace+mpc-pone.html

For further information on Kontron's fanless embedded Box-PCs, please visit:
www.kontron.com/products/systems+and+platforms/embedded+box+pcs/fanless+box+pc/

About Kontron

Kontron is a global leader in embedded computing technology. With more than 30% of its employees in Research and Development, Kontron creates many of the standards that drive the world's embedded computing platforms. Kontron's product longevity, local engineering and support, and value-added services, helps create a sustainable and viable embedded solution for OEMs and system integrators. Kontron works closely with its customers on their embedded application-ready platforms and custom solutions, enabling them to focus on their core competencies. The result is an accelerated time-to-market, reduced total-cost-of-ownership and an improved overall application with leading-edge, highly-reliable embedded technology.

Kontron is listed on the German TecDAX stock exchange under the symbol "KBC". For more information, please visit: www.kontron.com/


Related