Fanless COTS Mission Computer meets military standards. .
Press Release Summary: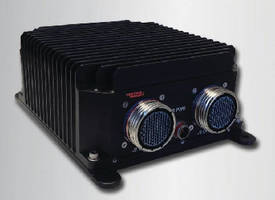 Powered by multi-core 4th Gen Intel® Core® i7 processor, Parvus® DuraCOR® 80-41 features SWaP-C optimized design with 16 GB of memory and high capacity mSATA SSDs. Small form factor computer provides expansion via modular stackable PCIe104 and Mini PCIe cards for application-specific I/O requirements such as high-speed I/O or graphics card expansion. Housed in rugged enclosure, computer is suited for C4ISR, command and control, image processing, and surveillance technology refresh programs.
---
Original Press Release:

Curtiss-Wright Unveils Its Lightest and Most Powerful 4th Gen Intel® Core® i7 Rugged Mission Computer



New Parvus DuraCOR® 80-41 Cuts Size/Weight 25%, Doubles Memory



ASHBURN, Va. – Curtiss-Wright Corporation (NYSE: CW) today announced that its Defense Solutions division has introduced the Parvus® DuraCOR® 80-41, the lightest, highest performance small form factor rugged mission computer that the Company has released to-date. This size, weight, power & cost (SWaP-C)-optimized subsystem redefines the extent of performance and features that customers can obtain from a compact, lightweight rugged mission computer. Powered by a multi-core 4th Gen Intel® Core® i7 ("Haswell") processor, the low-power, fanless DuraCOR 80-41 delivers higher computational performance, more powerful graphics, unmatched I/O, modular expansion and greater data storage flexibility compared to its predecessor, the DuraCOR 80-40, while reducing overall size and weight by 25%.  The result is high performance multi-core processing in a lightweight "shoebox"-sized rugged enclosure. This latest member of Curtiss-Wright's industry-leading family of DuraCOR small form factor mission computers boasts 2x the processor cores (quad versus dual), 2x the memory capacity (16GB versus 8GB), adds built-in support for Mini PCIe I/O expansion modules, and uses high capacity mSATA SSDs to further improve its overall SWAP-C envelope.



This fully featured modular and scalable commercial-off-the-shelf (COTS) mission computer speeds and eases the integration of high performance civil and military tactical mission processing aboard ground vehicles and fixed wing or rotary aircraft. Designed for worldwide markets, the DuraCOR 80-41 is a dual-use (EAR controlled) non-ITAR restricted product. It's ideal for use in C4ISR, command & control, image processing and surveillance technology refresh programs, providing a powerful and cost-effective solution for modernizing tactical platforms. Like other DuraCOR models, the DuraCOR 80-41 will be pre-qualified to MIL-STD environmental and EMI standards. It will also be certified for a range of RTCA/DO-160 commercial aerospace requirements. The investment that Curtiss-Wright makes in pre-qualifying the DuraCOR 80-41 mission computer eliminates the traditional NRE/development programmatic costs and scheduling delays associated with a custom solution. Because it's an off-the-shelf solution the DuraCOR 80-41 can significantly reduce a customer's design risk, costs, and development schedule, resulting in much shorter lead times to deployment.



"Curtiss-Wright just keeps getting better and better at loading more processing, I/O and storage into smaller and smaller rugged LRUs," said Lynn Bamford, Senior Vice President and General Manager, Defense Solutions division. "Our new DuraCOR 80-41 mission computer hits the sweet spot for customers seeking a Lowest Price Technically Acceptable (LPTA) COTS alternative to more costly and time consuming modified COTS (MCOTS) processing solutions. It delivers 4th Generation Intel Core i7 processor performance in an ultra-reliable modular design with powerful graphics, multi-core processing capabilities, and I/O expansion flexibility that quickly adapts to specific I/O requirements."



Extremely Rugged

Featuring ultra-reliable mechanical robustness, the DuraCOR 80-41 is designed to deliver optimal performance in extreme temperature, high shock & vibration and EMI conditions. It meets the demanding military and commercial aerospace MIL-STD-810G, MIL-STD-461F, MIL-STD-1275D, MIL-STD-704F and RTCA/DO-160G conditions for environmental, power and EMI compliance (thermal, shock, vibration, dust, water, humidity, altitude, power spikes/surges, conducted/radiated emissions & susceptibility).



Extremely Flexible I/O

This small form factor mission computer provides expansion via modular stackable PCIe104 and Mini PCI Express (PCIe) Cards to enhance flexibility for supporting application-specific I/O requirements such as high-speed I/O or graphics card expansion. The Mini PCIe format offers exceptional I/O flexibility and can be used to add optional avionics databus interfaces (MIL-STD-1553 / ARINC429) or other COM/DIO/Analog/Network/Video modules. One of the Mini PCIe slots can alternatively support mSATA Flash storage. The DuraCOR 80-41's removable SSD capabilities support high capacity storage while easing archiving and future upgrades. Additional I/O standard on the DuraCOR 80-41 includes support for high-speed Gen 2/3 PCI-Express Bus PCIe104 I/O module slots, USB 3.0 interfaces, three (3) independent high definition display controllers, and Trusted Platform Module (TPM) security.



Industry-leading COTS-based LRU Solutions

Like its predecessor, the DuraCOR 80-40, the DuraCOR 80-41 mission computer supports a modular mechanical enclosure design that eases the "mix and match" integration of computer, application I/O, network router, and Ethernet switch functions into a single box. The unit can mount in either a horizontal or vertical orientation, and can be factory-fitted with a Cisco® IOS router, Ethernet switch and/or other application I/O to provide a multi-function appliance that reduces SWaP/C by consolidating Line Replaceable Units (LRUs).



About Curtiss-Wright Corporation

Curtiss-Wright Corporation (NYSE:CW) is a global innovative company that delivers highly engineered, critical function products and services to the commercial, industrial, defense and energy markets.  Building on the heritage of Glenn Curtiss and the Wright brothers, Curtiss-Wright has a long tradition of providing reliable solutions through trusted customer relationships. The company employs approximately 10,000 people worldwide.  For more information, visit www.curtisswright.com.



Note: All trademarks are property of their respective owners.



John Wranovics

Director of Public Relations

Curtiss-Wright Defense Solutions

jwranovics@curtisswright.com

Mobile: (925) 640-6402

More from Electrical Equipment & Systems