Fanless Computer is suited for automation/machine control.
Press Release Summary: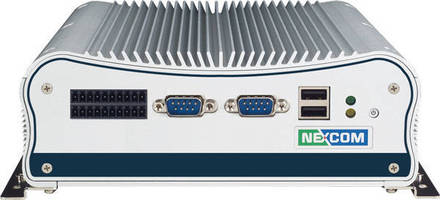 Housed in fanless extruded aluminum chassis, NISE 2000 Series features 4 serial ports, 2 supporting RS422/485; dual GbE LAN ports; and 4 USB ports for communication with multiple client devices. Unit is based on Intel® Atom(TM) processor and includes Compact Flash socket and Mini PCIe. Able to withstand vibration in harsh environments, it consumes less than 25 W and has power input range from 16-30 Vdc. Also, device supports 2 GB DDR2 memory and 2.5 in. SATA hard drive.
---
Original Press Release:

NEXCOM New Fanless Computer Saves Tremendous Energy and Cost



Wrapping in sleek and compact enclosure, Nexcom introduces its new fan-less computer, NISE 2000 Series, which is designed for automation, machine control and other applications. The NISE2000 Series incorporates with rich I/O ports that enable the communication with multiple client devices without extra modules. Nexcom's external Compact Flash socket and Mini PCIe fulfill the needs of storage and expansion.

Fremont, CA, Mar.23, 2009- Nexcom, a leading embedded Industrial PC innovator, is presenting a new range of industrial-grade fan-less computers, the NISE 2000 Series, based on the energy-efficient Intel® Atom(TM) processor. Housed in a fan-less extrude aluminum chassis, the NISE 2000 Series withstands the vibration in harsh environments. Its unique fan-less design eliminates concerns about dust accumulation, and greatly reduces the maintenance cost.

The NISE 2000 Series features an on-board 1.6 GHz Intel® Atom(TM) N270 processor with 945GSE chipset. The entire system consumes less than 25 watts power making the operation both energy-efficient and cost-effective. Coupled with its four serial ports (two support RS422/485), dual GbE LAN ports and four USB ports, the NISE 2000 Series provides flexibility to communicate with client devices. The NISE 2000 Series is also equipped with one mini-PCIe Socket and for expansion needs.

To accommodate various power supply requirements in dynamic vertical markets, the NISE 2000 Series is designed with wide power input range from 16V~30V DC. Moreover, the NISE 2000 Series supports up to 2GB of DDR2 memory. Its 2.5" SATA Hard Drive with SSD options meet soaring client demands of access to applications.

The compact aluminum enclosure of the NISE 2000 Series ensures continuing operation even in space-critical applications. Its long product life cycle makes the NISE 2000 Series the most ideal model for embedded vertical markets including automation, machinery control, digital signage, kiosks and POS system. The NISE 2000 Series with its industrial-grade design, is available at a commercially acceptable price with full range of advantages to the clients.

NISE 2000 Applications:

o Automation Control: PC-based controller, facility management & access control

o Machinery Automation: Engraving machine controller, sorting machine controller, gateway controller

o Digital Signage: Message board in train stations and airports

o Kiosk & POS: Vending machine, self-service ticketing kiosk in stores or airports.

NISE 2000 product highlights:

oSupports On-board Intel® Atom(TM) N270 Processor, 1.6GHz with Intel® 945GSE chipsets

oFanless design and compact enclosure: (7.7" x 7.9" x 2.6",WxDxH)

oDual 1000/100/10 Mbps LAN ports

o4 x USB2.0

o4 series ports; 2 support RS422/485

oOn-board DC to DC power supports 16V to 30V DC power input

oOne Mini-PCIe Socket

oOne External CF Socket

For more product information, please visit NISE 2000 Series at
http://www.nexcom.com/ProductType.aspx?id=727c03d8-5b35-40d2-b92b-16e8a570ff22

NEXCOM Co., Ltd. (TAIEX: 8234)-NEXCOM, a global leader in embedded computing platforms, is dedicated to providing the latest technology for in-house designed embedded solutions. With over15 years of solid experience in the industrial PC field, NEXCOM has exceeded its competition in industrial market segments by introducing the time-to-market solutions of fan-less computer, digital signage platform and mobile tablet PC. A proud member of Intel's Embedded Communication Alliance (ECA), NEXCOM continues to develop products incorporating Intel's newly released technology. NEXCOM also cooperates closely with system integrators and provides a wide array of applications to fulfill industries' urgent demands. Along with a rapid business expansion, NEXCOM has established a close-knit global network to address logistics and services in China, France, Germany, Italy, Japan, the UK, and the US. With over 450 talented professionals, NEXCOM dedicates itself to product innovation and total c ustomer satisfaction worldwide. (Website: www.nexcom.com)

More from Chemicals & Gases