Fan Motor Drivers accelerate appliance design.
Press Release Summary: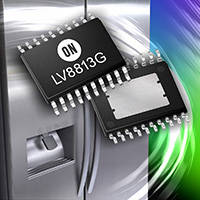 Designed to drive 3-phase BLDC motors via 180° sinusoidal waveforms, Models LV8811, LV8813, and LV8814 have voltage ranges of 3.6–16 V, 6–16 V, and 3.6–16 V, respectively. Software-less motor drivers reduce acoustic noise and vibration, and can be controlled by single Hall sensor. Motor speed can be set by either pulse width modulated signal or DC voltage. Drivers are suited for use in cooling fans of household appliances such as refrigerators, game consoles, and computing equipment.
---
Original Press Release:
ON Semiconductor Introduces Next Generation Fan Motor Drivers to Simplify and Accelerate Appliance Design
The software-less motor drivers improve motor system efficiency & reduce acoustic noise through 180° sinusoidal driving

PHOENIX, Ariz. – ON Semiconductor (Nasdaq: ON), driving energy efficiency innovations, has announced three new devices for driving 3- phase BLDC motors via 180 degree sinusoidal waveforms. Designed for use in cooling fans of household appliances such as refrigerators, as well as games consoles and computing equipment, the LV8811, LV8813, and LV8814 have voltage ranges of 3.6 volts (V) to 16 V, 6 to 16 V, and 3.6 to 16 V respectively. These highly integrated, software-less motor drivers simplify motor control circuit design by eliminating software development time. In addition, these devices reduce acoustic noise and vibration, and enable deployment of energy efficient motor controls. They can be controlled by a single Hall sensor, reducing system costs. Motor speed can be set by either a pulse width modulated (PWM) signal or a DC voltage. Furthermore, their lead angle can easily be adjusted.

The LV8811, the LV8813, and the LV8814 incorporate over-current, over-voltage, under-voltage, and over-temperature protection functions. Also included are locked rotor protection and auto-recovery mechanisms. Soft start-up and shutdown functionality ensures that ongoing operational stability is maintained.

"Appliance manufacturers need to heighten the energy efficiency of their products in order to adhere to the latest guidelines. They are also under a great deal of pressure from consumers for these products to deliver smooth, silent operation," explains Ikuya Kawasaki, Intelligent Power Solution Division General Manager at ON Semiconductor. "The 180° drive and lead angle adjustment of our LV8811/LV8813/LV8814 offering enable engineers to design systems that attain the elevated performance characteristics that are now being demanded. Moreover, design engineers can save development time and workload, and rapidly roll-out their products."

Packaging and Pricing
The LV8811/LV8813/LV8814 are all supplied in RoHS-compliant TSSOP-20J/SSOP-20 packages, and respectively priced at $0.938 (LV8811/LV8813) and $0.785 (LV8814) per unit in 2,000 unit quantities.

About ON Semiconductor
ON Semiconductor (Nasdaq: ON) is driving energy efficient innovations, empowering customers to reduce global energy use. The company is a leading supplier of semiconductor-based solutions, offering a comprehensive portfolio of energy efficient power management, analog, sensors, logic, timing, connectivity, discrete, SoC and custom devices. The company's products help engineers solve their unique design challenges in automotive, communications, computing, consumer, industrial, medical, aerospace and defense applications. ON Semiconductor operates a responsive, reliable, world-class supply chain and quality program, a robust compliance and ethics program, and a network of manufacturing facilities, sales offices and design centers in key markets throughout North America, Europe and the Asia Pacific regions. For more information, visit http://www.onsemi.com.

Follow @onsemi on Twitter.

ON Semiconductor and the ON Semiconductor logo are registered trademarks of Semiconductor Components Industries, LLC. All other brand and product names appearing in this document are registered trademarks or trademarks of their respective holders. Although the company references its website in this news release, information on the website is not to be incorporated herein.

Contacts
Noriko Fujiwara
Media Relations
ON Semiconductor
(602) 244-5986
Noriko.Fujiwara@onsemi.com
Related