Fan Drive Conversion Kit extends under-hood operating life,.
Press Release Summary: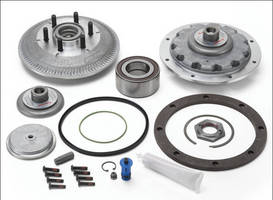 Featuring double row angular contact (DRAC) sheave bearing and air cartridge seal, DM Advantage(TM) On/Off Conversion Super Kit converts standard DriveMaster® On/Off Fan Drive to DM Advantage On/Off Fan Drive. Converted product has fail-safe design that promotes reliability and extended operating expectancy. Drives are suited for high-heat, under-hood applications, and kit contains everything needed to completely rebuild fan drive.
---
Original Press Release:
Horton Introduces DM Advantage(TM) On/Off Conversion Super Kit
ROSEVILLE, Minn.-Horton has introduced the DM Advantage On/Off Conversion Super Kit, which converts a standard DriveMaster® On/Off Fan Drive to a DM Advantage On/Off Fan Drive. The DM Advantage Conversion Super Kit features easy-to-install superior components, including a premium double row angular contact (DRAC) sheave bearing and improved air cartridge seal. The converted product has a fail-safe design for reliability and long-life performance. "With this new product, our customers can choose the same quality technology whether they purchase a DM Advantage Reman or a DM Advantage Conversion Super Kit," says Tom Hujik, director of North American aftermarket sales. DM Advantage On/Off Fan Drives are a proven solution for the highest-heat under-hood applications. DM Advantage keeps engine coolant at the optimum temperature while providing high torque for turning large fans, efficient engine cooling, fuel savings, reduced noise and improved engine performance. Like all Genuine Horton Super Kits, these kits contain everything you need to completely rebuild your fan drive. For information, visit www.hortonww.com/super or call +1 651.361.6400 or 1.800.621.1320. With 60 years of industry experience, commitment to service, reliability and innovation, Horton is a premium worldwide provider of fan drives, fans and suspension products. Horton's comprehensive research and development processes are driven by a dedication to exceed industry requirements today and in the future. The company has manufacturing plants in the United States and Germany, with licensed manufacturing facilities in Australia and the United Kingdom; offices in the United States, Canada, Mexico and Germany; and representatives in Brazil, Russia, South Korea, China and Australia. Horton products include VMaster® and Stratis® Viscous Fan Drives, VMaster Di and Stratis Di Viscous Fan Drives and Controllers, DM Advantage(TM) On/Off and Two-Speed Fan Drives, Arctis® Two-Speed Fan Drives, WindMaster® Revolution High-Efficiency/Hybrid-Flow Fans, WindMaster Fans, WindShift(TM) Modular Fans, Shogun(TM) Modular Fans, Electromagnetic On/Off Fan Drives, DriveMaster® Spring-Engaged Fan Drives, Klondike Series® Replacement Fan Clutches for the Kysor® K26RA as well as repair kits for Kysor's K26RA, K22RA and K22FA, PolarForce® Two-Speed Conversion Kits, DM Advantage Conversion Super Kits, Genuine Horton repair kits, remanufactured fan drives and Roller Bushing Suspension Products. Horton, Inc. 2565 Walnut Street Roseville, MN 55113 1-800-621-1320 +1 (651) 361-6400 info@hortonww.com www.hortonww.com/super
More from Software