Fall Prevention Railing System is suitable for flat roofs.
Press Release Summary: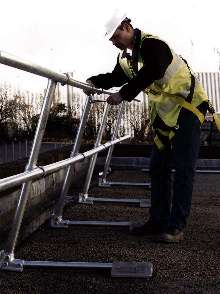 Offered with raking capability, KeeGuard® system allows railings to tilt up to 11° inward. Freestanding, counterbalanced, modular guardrail system installs without drilling or penetrating roof membrane. Its 4, pre-fabricated modular components accommodate various rooftop configurations. Designed for use with 1½ in. schedule 40 standard pipe, guardrail system is galvanized for corrosion-resistance and includes Kee Klamp® slip-on structural pipe fittings.
---
Original Press Release:

Enhanced New KeeGuard® Fall Prevention Railing Systems for Flat Roofs Feature Raking Capability and a Streamlined Design


(OCTOBER - 2002) Kee Industrial Products, Inc. Buffalo, NY introduces an enhanced new design of its KeeGuard® fall prevention railing system for flat roofs. The original KeeGuard system introduced in 2000 featured a T-shaped assembly with two counterbalance weights that rested on the rooftop. The enhanced design eliminates the T-cross and places the counterbalances in line. This streamlines the assembly to provide greater flexibility in system layout and design, while making installation easier, according to Kee Industrial.

Another new feature of KeeGuard is its raking capability. The railings can be installed to tilt up to 11 degrees inward. According to the company, inclined railings are often preferred for safety over perpendicular railings on roof tops and in other areas of fall hazard. This also allows KeeGuard to be configured so that the profile of the guardrail system can remain unseen from the street level in certain installations.

Designed to ensure safe and efficient rooftop maintenance and construction activity, the new KeeGuard is a freestanding, counterbalanced modular guardrail system that installs without drilling or penetrating the roof membrane, the company states. KeeGuard is independently tested in compliance with OSHA Standard CFR 29 1910.23 and 1926.500 which require the presence of a barrier within six feet of roof edges.

According to Kee Industrial, the enhanced KeeGuard system offers four, easy-to-assemble pre-fabricated modular components, accommodating a wide range of rooftop configurations. Designed for use with 1-1/2" schedule 40 standard pipe, the guardrail system is completely galvanized to be corrosion-resistant and virtually maintenance-free. The system can be disassembled and re-erected, and is adaptable to most roof edge profiles.

The enhanced KeeGuard system also features Kee Klamp® slip-on structural pipe fittings to connect the railing pipe and counterbalance assembly, eliminating any need for welding, drilling or threading. This can reduce installation costs up to 50% or more compared to installing welded railings, Kee Industrial states.

For free literature and additional information, contact Kee Industrial Products, Inc., 100 Stradtman Street, Buffalo, NY 14206. Toll-Free: 1-800-851-5181. Phone: 716-896-4949. Fax: 716-896-4347. E-mail: info@keeguard.com. URL: KeeGuard.com.

For additional information, contact:
Kenneth A. Boos, Account Executive, Harold Warner Advertising, Inc. (extra@haroldwaner.com)

More from Fasteners & Hardware