Falcon Tool Company Adds New Line of NSK Equipment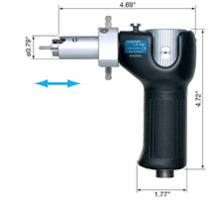 (Traverse City, MI 1/14/2019) Falcon Tool Company is excited to add NSK's line of high speed precision hand tools including the Emax EVOlution Micro-Grinder, ROTUS Air Grinder and popular attachments to their offering of mold polishing equipment and supplies.
NSK's products are highly acclaimed and offer the latest technology in high speed precision hand tools which are engineered to meet the industry's demand for speed and precision. As part of their standard offering, Falcon Tool will offer the Emax EVOlution Micro-Grinder and ROTUS Air Grinder along with their most popular attachments. NSK's full line of polishing, grinding, engraving, deburring, and cutting equipment will also be available for purchase.
The Emax EVOlution Ultra-Precision Brushless Micro-Grinder offers high accuracy, high reliability and superior durability. Its digital display enhances safety and efficiency while it's compact and functional design makes the unit portable.  Standard or torque type motors are available.
The ROTUS Ultra-Precision High Torque Air Grinder system is a hand-held grinder with an energy saving air motor. Since it is an air driven system, there is virtually no heat generation resulting in excellent durability. Select from a variety of attachments for either grinder that fit your application needs. 
"At Falcon Tool, we continually search for the latest tools and technology to meet evolving industry demands," says Betsi Burns, Sales and Product Manager. "We have seen the popularity and quality of these NSK products throughout the industry and wanted to make these tools available to our valued Falcon Tool customers".
For further information, please visit our website www.falcontool.com or contact our customer service team at customerservice@falcontool.com or 216.328.0300.
More from Construction Equipment and Supplies