Failsafe Brake fits stepper and servo motors.
Press Release Summary: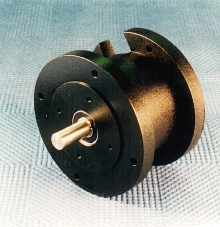 Model RFEB power-off brake mounts on front end of standard NEMA 23 and NEMA 34 stepper or servo motors to prevent machine from operating or for holding load in place when power fails. It has spring-set design, ball bearing supported output shaft, and operates at speeds to 8,000 rpm. Brake is available in 24 and 90 Vdc versions. Applications include factory automation, material handling, robotics, CNC tools and systems, and packaging machinery.
---
Original Press Release:
Electroid's
SPRINGFIELD, NJ - ELECTROID, of Springfield, NJ is offering its most economical line of power-off brakes designed especially for Stepper/Servo Motor applications. Model RFEB is a failsafe, or power-off brake, specifically engineered to be mounted on the front end of stepper or servo motors as an added safety feature or for holding the load in place. Its simple design provides solutions for complex applications requiring a holding device. The design is modular in style and easily mounts to the motor. Made of lightweight materials, the RFEB features an integral brake design for superior cost efficiency. Available to fit standard NEMA 23 and NEMA 34 motor frames, the RFEB is compact, powerful and cost-efficient. It is suitable for such applications as office and factory automation, material handling, robotics, CNC tools and systems, medical equipment, computer "chip" manufacturing equipment, clean room manufacturing equipment, electronic circuit board manufacturing, packaging machinery, etc. The RFEB brake can be used as a safety device in order to prevent the machine from operating when power "fails" (electricity goes out). Easily attached to a stepper or servo motor by simply "bolting it on" or "plugging it in," the Electroid RFEB Series also features: *Economical one-piece aluminum housing *Cost efficient spring-set brake design *Ball bearing supported output shaft *Maximum speeds to 8,000 RPM *Quick response and low backlash *High torque output *24 and 90 VDC available as standard (other voltages available) *Will fit standard NEMA 23 and 34 motor frames
Related