Fail-Safe SMD Capacitors satisfy automotive application needs.
Press Release Summary: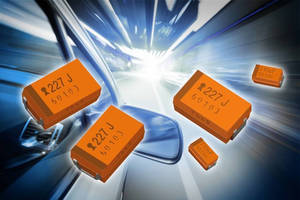 With ratings of 8 V at 85°C and 7 V at 105°C, niobium oxide (NbO)-based capacitors of OxiCap® NOS Series provide non-burning, non-smoking, essentially ignition-free SMD electrolytic under typical power loads of in-cabin automotive applications. Self-healing properties allow continued operating under breakdown conditions. With 1.8–8 V ratings, series includes 9 case sizes spanning EIA codes 1206 to 2917. Capacitance ranges from 10–1,000 µF (with ±20% tolerance), and DCL is 0.02 CV.
---
Original Press Release:

AVX Extends Fail-Safe OxiCap® NOS Series Voltage Ratings to Satisfy Automotive Applications and Adds Standard ESR Ratings for Cost-Conscious Applications



The newly extended OxiCap NOS Series delivers exceptional reliability for SMD capacitors & meets AEC-Q200 requirements for automotive applications



FOUNTAIN INN, S.C. – AVX Corporation, a leading manufacturer of passive components and interconnect solutions, has extended the voltage ratings for its award-winning OxiCap® NOS Low ESR Series niobium oxide (NbO) capacitors to 8V at 85°C and 7V at 105°C to satisfy automotive applications requiring fail-safe SMD electrolytic capacitors, and has also added standard ESR ratings to satisfy more cost-conscious applications. Delivering exceptional reliability for SMD capacitors — 0.2% per 1,000 hours at rated voltage and 85°C, with just 20% recommended derating under load — the series is ideal for in-cabin automotive applications, such as: steering angle sensors, voltage regulators, DC-DC converters, electrochromic mirror systems, and automotive infotainment systems.



Based on niobium oxide technology, which can withstand nearly 300x the energy required to combust the base material for traditional electrolytic capacitors, AVX's OxiCap NOS Series capacitors provide a non-burning, non-smoking, essentially ignition-free SMD electrolytic under the typical power loads of in-cabin automotive applications. The series also exhibits self-healing properties, which allow the capacitors to continue operating under breakdown conditions with little effect on capacitance and only a slight increase in DC leakage, rather than short-circuiting like most SMD capacitor technologies.



"The new voltage ratings for the OxiCap NOS Series capacitors extend their scope of useful applications to include those in which safety and reliability are paramount," said Mitch Weaver, member of the technical staff at AVX. "The number of automotive applications that are deemed critical are continually increasing due to the adoption of ISO 26262 and IEC 61508 functional safety standards for electronic automotive systems, so we designed this latest extension of our OxiCap NOS Series to provide our customers with trusted, fail-safe components that will prove critical to their next-generation designs."



Lead-free compatible and RoHS compliant, AVX's newly extended OxiCap NOS Series capacitors are available in nine case sizes spanning EIA codes 1206 to 2917, and are rated for voltages spanning 1.8 to 8V, capacitance values spanning 10µF to 1,000µF (with a ±20% tolerance), and operating temperatures spanning -55°C to +125°C. DCL for the series is 0.02CV. OxiCap NOS Series capacitors are shipped on 7" or 13" reels, and lead time for the series is currently 8–10 weeks.



For more information about AVX's OxiCap® NOS Series niobium oxide capacitors, please visit http://www.avx.com/products/niobium/smd-nbo-oxicap/oxicap-nos-series/ to access the product datasheet and catalog, safety and packaging information, relevant technical papers, and modeling software. For all other inquiries, please visit www.avx.com, call 864-967-2150, or write to One AVX Boulevard, Fountain Inn, S.C. 29644.



About AVX

AVX Corporation is a leading international supplier of electronic passive components and interconnect solutions with 20 manufacturing and warehouse facilities in 11 countries around the world. AVX offers a broad range of devices including capacitors, resistors, filters, timing and circuit protection devices, and connectors. The company is publicly traded on the New York Stock Exchange (NYSE:AVX).



For more information, contact:

Mitch Weaver

Member of Technical Staff

864-228-4595

mitch.weaver@avx.com



Christine Stieglitz

PR Executive, BtB Marketing

919-872-8172

christine.stieglitz@btbmarketing.com

More from Agricultural & Farming Products