Fail-Safe Digital Pressure Switch employs redundant sensing.
Press Release Summary: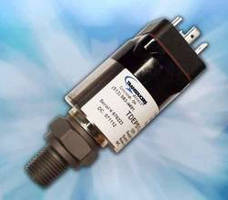 Promoting reliability in shock- and vibration-prone applications, TDEPS UL-approved electronic pressure switch eliminates all mechanical components, wear parts, and setpoint drift. Product is shock rated to 50G, accurate to within 1% of its pressure range of up to 10,000 psi, and fully compensated for temperature over entire -40 to 194°F operating range. Features include one-piece stainless steel diaphragm and header, stainless steel wetted parts, and EMI/RFI protection.
---
Original Press Release:

New All-Digital Pressure Switch is Industry-First with Redundant Sensing for Fail-Safe Operation



Proprietary circuitry produces high-resolution, noise-free/drift-free signal; eliminates all mechanical components.



CINCINNATI, Ohio – The new TDEPS electronic pressure switch designed by Transducers Direct is the first in the industry with digital reliability, patented design and proprietary circuitry that creates redundant sensing capability. The UL-approved, US-made switch eliminates all mechanical components, wear parts and setpoint drift for ultimate reliability in shock and vibration applications in mobile hydraulic equipment, injection molding machinery, rolling mills, amusement park rides, timber processing equipment and similar applications. Shock rated to 50G and accurate to within 1% of its pressure range of up to 10,000 psi (689 bar), the TDEPS is fully compensated for temperature over its entire operating range of -40°F to194°F (-40°C to 90°C). Its relay output is rated at 250VAC/VDC, 5A, with optional 10 amp.



Unique in design, the TDEPS uses a one-piece, precision-machined stainless steel diaphragm and header. It provides ten times the life of a conventional diaphragm and eliminates all springs, pushrods, micro switches and o-rings. All wetted parts are stainless steel. The TDEPS senses pressure by using a time-to-digital converter (TDC) to measure the duration of a capacitive discharge across the changing resistance in a Wheatstone bridge atop the diaphragm. Clever circuitry splits the signal from the bridge, creating a redundant signal that ensures continuous machinery operation if one half should fail. Circuit updates in the one millisecond range ensure smooth function.



The TDEPS's all-digital design eliminates amplifiers, filters, amplified noise and signal delays, producing a high-resolution signal without analog variability or noise in the circuit. Maximum electrical consumption is 9-28VDC at 35 mA. Fast factory programming of both set point and hysteresis allows next-day shipping.



The TDEPS is EMI/RFI protected and sealed to IP-65 rating. Standard overpressure rating is 2X, with 4X optional. Burst pressure is 5X or 20,000 psi, whichever is less. It is available with a variety of industry standard pressure-port connections.



For more information on the TDEPS, visit transducersdirect.com or call 513-583-9491.



Contact

Mark McDaniel

Transducers Direct

Tel 513-583-9491

mark_mcdaniel@transducersdirect.com



Agency

Ray Kemble

Kemble & Drum Communications Inc.

Tel 513-871-4042

rkemble@kembledrum.com

More from Electronic Components & Devices