Face Mill doubles throughput in aluminum.
Press Release Summary: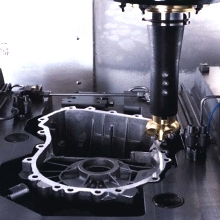 CoroMill 590 Century segmented face mill works safely up to 40,000 rpm in 40 mm diameter size. Serrated inserts mate with seat pockets to locate cutting edges with repeatable accuracy, and to lock inserts safely in place. Fixed-pocket, square-shoulder face mill features axial micro-adjustment capability. It comes in diameters from 2.0 to 8.0 in. and 40 to 200 mm. Maximum rated speeds range from 15,700 to 41,600 rpm, depending on diameter and coupling.
---
Original Press Release:
High-Speed Segmented Facemill Doubles Throughput In Aluminum

With Sandvik Coromant's new high-speed CoroMill 590 Century facemill automotive, aerospace, and general industrial manufacturers can double milling productivity of aluminum and other non-ferrous materials. The serration technology facemill works safely at up to 40,000 rpm in the 40 mm diameter size - twice as fast as comparable cutting tools. It maximizes throughput in light roughing, finishing, and super-finishing operations. Early applications have achieved surface finishes better than 10microRa.

The new square-shoulder facemill combines maximum edge security with minimal runout. Serrated inserts mate with seat pockets to locate cutting edges with more repeatable accuracy, and to lock inserts safely in place despite high radial loads. The CoroMill Century facemill is also the first fixed-pocket facemill with axial micro-adjustment capability for even greater accuracy. Edge location tolerance is within half that of industry-standard inserts.

The CoroMill 590 Century facemill comes in diameters from 2.0 to 8.0 in. and 40 to 200 mm. Maximum rated speeds range from 15,700 to 41,600 rpm, depending on diameter and coupling, and are always twice that of previous comparable aluminum cutters. The new cutter accommodates both Sandvik Coromant CD10 polycrystalline diamond (PCD), and Grade H10 uncoated carbide inserts in standard corner and fine-finishing wiper geometries.

Sandvik is an international group of materials-technology companies with 34,000 employees in 130 countries and over $5 billion in annual sales. Operations worldwide comprise three separate business areas: tooling, Specialty Steels, and Mining and Construction. The Sandvik US group represents all three business areas, exceeding $1 billion in annual sales.

Products include cemented carbide and high-speed steel tools for metalworking; machinery and equipment for mining and construction; and stainless steels, special alloys and heating materials. Each company in the Sandvik group prides itself on large investments in research and development, a strong commitment to superior customer service and the willingness and capability to lead the way in technology.

For more information contact Thomas Carlberg, Sandvik Coromant, 1702 Nevins Road, Fair Lawn, NJ 07410; email Thomas.Carlberg(sandvik.com; phone (201) 794-5000; fax (201) 794-5217; or www.coromant.sandvik.com

More from Software