Face Grooving Heads feature coolant-through capability.
Press Release Summary: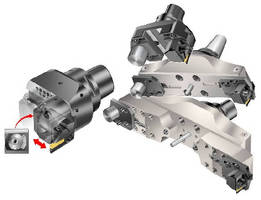 Available for 47–1,275 mm diameters, CoroBore® 825 SL Heads offer alternative to milling grooves for those operating in or serving sectors such as pumps and valves, hydraulics, and pulp/paper industry. Rotating axial face grooving tools use standard SL32 blade and CoroCut 1-2 inserts, but feature through-coolant capability for chip control. For 47-150 mm diameters, C6 and C8 adapters are available, while for diameters >150 mm, dedicated face grooving head with CoroBore XL can be deployed.
---
Original Press Release:

Productive Alternative to Groove Milling



CoroBore® 825 SL face grooving heads deliver new levels of productivity



Fair Lawn, N.J. – Machine shops seeking competitive gain in face grooving applications should look no further than the new CoroBore® 825 SL face grooving heads from tooling specialist, Sandvik Coromant. This rotating axial face grooving tool offers a productive alternative to milling grooves for those operating in, or serving sectors such as pumps and valves, hydraulics and the pulp and paper industry.



The solution uses a standard SL32 blade and CoroCut 1-2 inserts, but features through-coolant capability for enhanced chip control. This, in combination with high levels of rigidity, allows increased cutting data.



Chip evacuation is a concern in any metalcutting operation but is critical when grooving because chips are more prone to being trapped inside a groove and being re-cut. As a result, through-tool coolant delivered right to the cutting edge can be enormously beneficial.



CoroBore® 825 SL face grooving heads offer radial fine adjustment for presetting purposes and are available for diameters from 47 to 1275 mm. For smaller diameters (1.85 – 5.91 in./47-150 mm) C6 and C8 adaptors are available, while for larger diameters (>5.91 in./150 mm) a dedicated face grooving head with CoroBore XL can be deployed.



The first choice insert geometries are -CM for small nose radii (<0.0078 in./0.2 mm) or -TF for larger nose radii (>0.0078 in./0.2 mm) – the recommended starting value for feed rate is 0.006 in/rev (0.15 mm/rev). However, if grooves with smaller width tolerances are required -GF geometry is the preferred choice. Here, a feed rate of around 0.004 in /rev (0.10 mm/rev) is the recommended starting value.



At last there is a high-productivity alternative to milling grooves – axial face groove machining for applications such as producing O-ring grooves has never been easier using CoroBore® 825 SL face grooving technology.



For applications involving other shapes, such as V-grooves for example, Tailor Made insert solutions are available.



About Sandvik Coromant

Sandvik Coromant is a global leading supplier of cutting tools, tooling solutions and know-how to the metalworking industry. With extensive investments in research and development we create unique innovations and set new productivity standards together with our customers. These include the world's major automotive, aerospace and energy industries. Sandvik Coromant has 8,000 employees and is represented in 130 countries. We are part of the business area Sandvik Machining Solutions within the global industrial group Sandvik.



www.sandvik.coromant.com/us

More from Machinery & Machining Tools