Miscellaneous Fabrics and Cloths
Fabrics are vinyl coated.
Press Release Summary: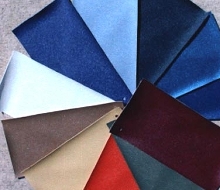 NaugaTek fabrics are designed for use in seating applications. They are available in 11 colors and meet requirements of hospitality and health care industries. Other uses include transportation, recreation, and commercial applications.
---
Original Press Release:
Naugahyde(r) Introduces New Product Line

Nappanee, IN - A new line of vinyl coated fabrics was introduced this week according to Larry Bressler, VP/GM of Naugahyde(r). Billed as an innovative new tech look, the product is aptly named NaugaTek.

Designed for use in seating applications, the vinyl-coated fabric makes use of new technology to add a sparkle to the finish giving a rich, stylish appearance. Eleven vibrant colors are available and samples will be available soon on Naugahyde's web site, www.naugahyde.com/ as well as with authorized Naugahyde distributors.

"This new product line embodies the strength and durability associated with the Naugahyde(r) name, yet has the supple softness that has been the hallmark of our new technology lines of NaugaSoft(tm) and NaugaLeather(tm)," according to Mike Jobe, newly appointed Vice President of Sales for Naugahyde(r). "Since the product meets the criteria that the hospitality and health care industries require, we expect this new look to be a winner especially with those markets. Focus groups were very impressed with the look and the soft hand of NaugaTek," stated Jobe.

Naugahyde(r), the original vinyl-coated fabric, was first produced in Naugatuck, Connecticut in 1914. Since it had many of the characteristics of a leather hide and made in Naugatuck, the name Naugahyde(r) resulted. Naugahyde(r) is now manufactured exclusively in Stoughton, Wisconsin and distributed worldwide by an authorized distributor network. The fabric is widely used in a variety of markets including hospitality, health care, transportation, recreation, residential and many other commercial applications. One of the largest applications is for seating in these markets.

Naugahyde(r) is a product of Uniroyal Engineered Products, LLC manufactured in Stoughton, Wisconsin. Always demand Naugahyde; the rest of the world does!
More from Adhesives & Sealants