Fabricated Rotary Retorts have support wheels and brackets.
Press Release Summary: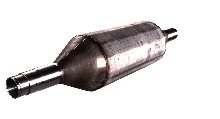 Fabricated replacement batch retorts are used in carburizing and hardening furnaces used by manufacturers of ball and roller bearings, chains and fasteners. Fabricated from wrought stainless steel, retorts have homogeneous, small, and tight grain microstructure resistant to furnace environments. Accessories/components include front and rear wheels, front spacing wheels, rear gas inlet tubes, rear spacing discs, augers and pigtails.
---
Original Press Release:
Fabricated Rotary Retorts Cut Production Costs by 50% Outlive Cast Retorts by up to 400%

BEREA, OHIO, November 19, 2001-Alloy Engineering offers a complete line of fabricated replacement batch retorts for AGF (American Gas Furnace) rotary furnaces and fabricated continuous rotary retorts for furnaces such as those manufactured by Surface
Combustion, AGF, Pacific Scientific and Selas.

Batch rotary retorts are used in carburizing and hardening furnaces used by manufacturers of ball and roller bearings, chains, fasteners, and automotive components. The design of Alloy
Engineering fabricated replacement retorts for batch AGF furnaces have evolved to the point where they consistently provide impressive production cost savings and dramatic increases in service life.

Alloy Engineering fabricates its rotary retorts from wrought stainless steel. Unlike cast materials with a microstructure that is difficult to control, wrought materials have a homogeneous, small and tight grain microstructure that is highly resistant to the rigors of furnace environments. Fabricated
retorts weigh less than cast retorts resulting in faster heat up times, shorter cycle time, and less temperature differential, which reduces thermal stresses. Not only does the wrought material have better ductility to resist thermal fatigue or shock, its smoother, more consistent surface finish means less marking of parts during production.

"During the past seven or so years, we have refined and enhanced the design of fabricated batch rotary retorts for AGF furnaces to the point where their performance far exceeds that of cast
retorts," points out Donald P. Andrews, project engineer at Alloy Engineering. "For example, we have a bearing-manufacturer customer that was experiencing failures of cast retorts only nine
months after installation. Currently, our fabricated rotary retorts are delivering a service life at temperature from 2 1/2 to 4 years in AGF furnaces in several of this customer's domestic and foreign plants. Many of our fabricated batch retorts are approaching, or have exceeded, 30,000 hours of operation without a failure.

"An important reason for the integrity and ruggedness of our retorts is our high-temperature material know-how. We have been fabricating high-temperature alloy furnace components since 1943 and have considerable design, fabrication and welding expertise."

Another advantage of Alloy Engineering batch rotary retorts is the cost-effective design flexibility that results from fabrication. "We are able to economically modify a fabricated retort to meet a customer's increased production requirement," says Mr. Andrews. "For example, by increasing the outside diameter of a retort body, we were able to increase production for one customer from a load of 3000 lb per batch to 3600 lb per batch. Achieving this same increase in productivity with a cast
retort would require a considerable expense for a new casting mold."

Alloy Engineering supplies a complete line of accessories and components for its batch rotary retorts including front and rear wheels, front spacing wheels, rear gas inlet tubes, rear spacing discs, pigtails, augers, and small diameter support wheels and brackets.

Many of the features and benefits of fabricated batch retorts are the same as those provided by rotary retorts for continuous furnaces. Alloy Engineering's advanced fabrication techniques
minimize welding requirements. Optional equipment and accessories include support roller shafts, gas inlet tubes, discharge chutes and charge chutes.

A unique just-in-time customer service is made possible by Alloy Engineering's capability of predicting when a retort may fail based on an analysis of historical life. The company can then
fabricate and hold a replacement retort in inventory until it is needed thus reducing replacement time to a minimum.
More from HVAC