F863 Film Capacitors meet AEC-Q200, CUL and CQC standards.
Press Release Summary: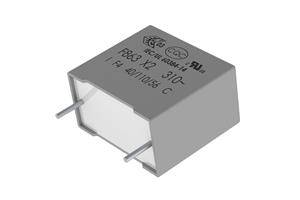 F863 Film Capacitors are offered in capacitance values ranging from 0.1 microfarads to 10 microfarads capacitance values ranging from 0.1 µF to 10 µF with rated voltages up to 310 VAC. Units provide an operating temperature range -40 to +110°C. Capacitors are used in automotive, industrial and mains-connected and vehicle electronics applications.
---
Original Press Release:
KEMET Announces New Automotive Grade Film Capacitors for Use in the Most Challenging Environments
F863 metallized polypropylene film capacitors provide robust, across-the-line filtering in automotive, industrial and mains-connected applications
KEMET Corporation (NYSE:KEM), a leading global supplier of electronic components, today announced a new family of automotive grade metallized polypropylene film capacitors. F863 class X2 miniature capacitors are specifically designed to provide robust performance in safety applications in harsh environments and severe ambient conditions.
These new devices address applications in both the automotive and industrial segments. They provide across-the-line EMI and RFI filtering for the growing number of vehicle electronics applications, as well as in mains-connected indoor applications such as capacitive power supplies.
The F863 series meets AEC-Q200 qualification requirements and is available in capacitance values ranging from 0.1 microfarads to 10 microfarads with rated voltages up to 310 VAC. The new, fully approved RFI X2 capacitors have an operating temperature range of -40 to +110 degrees Celsius.
The metallized polypropylene film dielectric exhibits excellent self-healing characteristics. Additionally, KEMET's designers have enhanced the major components of this capacitor series to help resist traditional capacitance-loss mechanisms. With these improvements, the F863 series offers very high capacitance stability while meeting ENEC, CUL and CQC international safety requirements.
"The number and severity of challenging electrical and environmental applications is rising," said Fabio Scagliarini, KEMET Vice President of Film Development. "The demand for complex vehicle electronics is increasing, and customers expect sensitive electronics products to work safely and reliably in high temperature, high humidity situations. Devices from KEMET's F863 series can provide our customers a robust, dependable solution in these scenarios and comply with the prevailing industry standards."
For more information, please visit www.kemet.com/F863.
About KEMET
KEMET Corporation is a leading global manufacturer of electronic components that meet the highest standards for quality, delivery and service. The company offers its customers the broadest selection of capacitor technologies in the industry across all dielectrics, along with an expanding range of electromechanical devices, electromagnetic compatibility solutions and supercapacitors. KEMET's corporate headquarters are in South Carolina; the company also operates manufacturing facilities, sales and distribution centers around the world. KEMET's common stock is listed on the NYSE under the symbol "KEM." Additional information about KEMET can be found at www.kemet.com.
Related