F600SE.44 Wallboard Crane can be operated using digital RCH/RCS remote control.
Press Release Summary: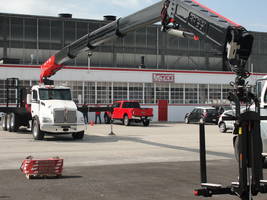 F600SE.44 Wallboard Crane offers vertical and horizontal reach of more than 115 ft and 101 ft respectively. Having a maximum lifting capacity of 6,600 lbs, unit comes in 8 ft 3 in. W x 28 ft 7 in. L x 9 ft 5 in. H dimensions. Equipped with a high-capacity oil cooler and an AGS automatic greasing system, crane features FX901 control system with 7 in. color touchscreen display. Unit's Automatic Dynamic Control maximizes speed of movement by verifying crane's functions.
---
Original Press Release:
Fascan Introduces Industry's Tallest Wallboard Crane
New F600SE.44 offers vertical reach of 115', horizontal reach of 101'
Fascan International has introduced the new F600SE.44 wallboard crane, with a vertical reach of more than 10 stories, giving it the highest reach of any wallboard crane in the U.S. market. Fascan is the exclusive U.S. distributor of Fassi articulating cranes.
The F600SE.44 has a maximum lifting capacity of 6,600 lbs., a vertical reach of more than 115' and a horizontal reach of 101'. Its overall dimensions are 8'3" w X 28'7" l X 9'5" h.
The F600SE.44 has been designed to withstand extensive, intense operation through its high-capacity oil cooler, AGS automatic greasing system with braided, high pressure grease lines, and rigorous fatigue testing by Fassi technicians.
Brains as well as brawn
In addition to its exceptional reach and strength, the F600SE.44 also includes several other sophisticated control, monitoring and safety components, including:
FX901 control system, with 7" color touchscreen display that allows the operator to view detailed information about the stabilization conditions and the crane work
Digital RCH / RCS remote control and the new V7 radio control units
Automatic Dynamic Control (ADC), which verifies all the crane's functions and maximizes the speed of movement in accordance with the load
FX900, the digital brain that coordinates and manages the best operating conditions for performance and optimal machine control, as well as the crane's safety devices.
"This new wallboard crane extends the already exceptional capacity of the SE line," says Bernie Faloney, Fascan's President and CEO. "The building industry is looking to do more with its equipment, and the F600SE.44 is going to allow contractors to do so with ease."
For more information about the F600SE.44, call Fascan at (800) 632-7226.
Fascan International is the exclusive U.S. distributor of Fassi articulating cranes, one of the leading crane manufacturers in the world. Fascan has 65 certified service locations across all 50 states.
More from Portable Tools