EZS Slides and EAC Cylinders come with electromagnetic brake.
Press Release Summary: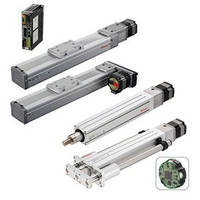 Integrating AZ series absolute sensors for absolute-type positioning, EZS Electric Slides and EAC Electric Cylinders' are operated on AC or DC input supply. Available with Pulse Input or built-in controller type driver, EZS Series Slides come with dust resistant structure. Featuring ball screw design, EAC Series Cylinders are offered with straight type or reversed motor type with shaft guide. Units does not require battery or external sensors.
---
Original Press Release:
Oriental Motor Introduces New Linear and Motorized Actuators Equipped With Battery-Free AZ Series Performance
Eliminate Extra Sensors with a Battery-Free Absolute System
Oriental Motor USA is pleased to announce that our new AZ Series technology for advanced positioning applications with absolute mechanical encoder now span across our EZS Series electric linear slides and EAC electric cylinders family of product.
The AZ Series offers closed loop control, substantially reduces heat generation from the motor and incorporates a newly developed Absolute Sensor for absolute-type positioning. The new Absolute Sensor operates autonomously, without additional battery back-up or external sensors to buy.
The upgraded EZS Series is a compact, high rigidity electric linear slide with simple dust-resistance structure and can is available in straight type or reversed motor type designed to suit a wide variety of equipment space and environment. Available with Pulse Input or Built-in Controller (Network) type driver.
The new EAC Series is a compact, high strength, quick and responsive electric cylinder that incorporates a ball screw design, offering high performance from low speed to high speed or with light loads or heavy loads, regardless of demanding operating conditions. Available in a straight type or reversed motor type and with a shaft guide and cover version also available, saves design time and parts. All EAC Series are available with an electromechanical brake ideal for vertical operations.
Both EZS Series and EAC Series are equipped with AZ Series technology, which provides high response, low vibration and hunting-free operation of a stepper motor inside an electric linear slide and electric cylinder.
Short lead time, 1~5 units available to ship in 9 business days. Packages start from $1,023.
The NEW AZ Series Type EZS Electric Slides and EAC Electric Cylinders' Key Features are:
No battery or external sensors required
One driver, large family product group
High reliability, high duty cycle
High efficiency, energy saving
Electromagnetic brake available
AC or DC input
Short lead time (available to ship in 9 business days, 1~5 units)
Visit our web site to learn more about the new battery-free, absolute sensor AZ Series family of products at http://www.orientalmotor.com/AZ
ABOUT ORIENTAL MOTOR
Since its founding in Japan in 1885, Oriental Motor has been a world leader in motion systems. For over a century we have concentrated on technological advancement and product design improvement - an emphasis evident in the sophisticated devices we market today. Oriental Motor's sales and service network is international, with offices throughout North America, Europe and Asia. Domestically, ORIENTAL MOTOR U.S.A. CORP. was established in 1978.
For more information:
Steve Khou
Web & Marketing Planner
Oriental Motor USA
1001 Knox St.
Torrance, CA 90502
Phone: 310-715-3301
Url: http://www.orientalmotor.com
Email: [email protected]
Technical Support,
800-468-3982,