Eye Tracking System features lightweight optics.
Press Release Summary: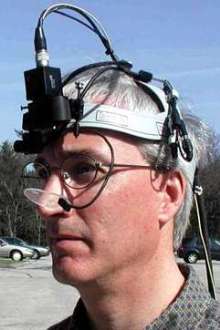 Able to operate in bright, outdoor environments, Model 501-O Eye Tracker employs portable design with head-mounted optics that offers freedom of movement to user. Unit is also usable indoors. Scene is recorded with color camera mounted on headband or fixed tripod, while images from eye and scene cameras are displayed on 2 external 9 in. monitors or on computer monitor. EYEPOS operating software and EYENAL off-line data analysis software programs are included.
---
Original Press Release:

ASL's 501-O Eye Tracker Features Light-weight Optics, Bright Outdoor Flexibility


Bedford, Massachusetts, USA -- Applied Science Laboratory's Model 501-O eye tracking system is ideal for sports and outdoor eye tracking applications due to its compact, lightweight, portable design with head-mounted optics, and the unique capability of operating accurately in a bright outdoor environment. Offering the capability of unrestricted freedom of movement to the wearer, the ASL Model 501-O is a complete eye tracking system especially designed for the demands of outdoor use. Eye-tracking systems can have difficulty operating in very bright outdoor environments; ASL's proprietary sensing technology sets it apart from other eye tracking systems in that it is not affected by a bright operating environment. Applications can include analysis of sports performance, such as golf; and any activity where eye tracking analysis may improve performance or safety. The 501-O, while ideal for outdoor use, is not limited; it will deliver superior results in indoor environments (such as arenas) as well.

The Model 501-O features a compact system control unit, as well as lightweight optics that are mounted on an adjustable headband. The system is 'plug and play' ready to go, including all necessary equipment to begin work immediately. The scene is recorded with a color camera that can be mounted on the headband or on a fixed tripod. Images from the eye and scene cameras are displayed on two external 9" monitors or on computer monitor through two digital frame grabbers. ASL's EYEPOS operating software and EYENAL off-line data analysis software programs are included for installation on a PC or laptop computer.

Model 501 EYEPOS operating software provides the system operator with the ability to enter calibration and subject data, and specify the operating parameters of the Model 501. EYEPOS also converts the eye tracker data records into ASCII format for transmission to other computers or for off-line spreadsheet analysis. Data is available directly from the Model 501 control unit through a serial port (RS232). The Model 501's interface PC can be connected to an Ethernet network, permitting data analysis from remote locations. ASL will supply a Software Development Kit (SDK) and any additional required information for integration.

The Model 501-O Outdoor optics are compatible with other Model 5000 systems, including the 501, 501 Mobile and the 504.

Eye tracking systems provide an important design evaluation and research tool for computer displays used in aviation, aerospace, defense and industry. Applications include design of simulators, computer displays and control panels used in air traffic facilities, aircraft and cockpits, vehicles and complex manufacturing displays. Eye tracking systems have a wide range of medical research applications and could have significant potential for early detection and treatment of various disorders.

Applied Science Laboratories has been a pioneer in the examination of the human eye's movements and pupil dynamics for over 30 years. ASL was the first company to develop a head-mounted eye tracker, eye/head integration, parallax-free optics, and many other features that are industry standard. ASL's current range of computer-based eye movement measurement equipment has eye-tracking applications in moving vehicles, sports, WEB design, pupilometry and many more. ASL currently has tracking systems in the fields of medicine, cognitive psychology, training, simulation, biomechanics and human factors research. For more information, visit www.a-s-l.com or contact the company at175 Middlesex Turnpike, Bedford, Massachusetts, 01730 USA, Tel. (781) 275-4000 Fax. (781) 275-3388.

More from Material Handling & Storage